By Mike Rosso
The Chalk Cliffs State Trout Rearing Unit sits at the base of majestic Mt. Princeton, near Chalk Creek in Nathrop.
Originally a private trout farm, the state of Colorado began operating the facility in 1948 to provide catchable trout to waters throughout the Front Range and Eastern Plains of Colorado.
Its stocking area reaches from Loveland to Trinidad, and out to the Kansas border and it produces about 700,000 ten-inch trout per year. Fish under five inches long are fed by hand, but they use a truck-mounted feed blower to feed all fish over five inches. For most of the year they dispense about 1,500 pounds of feed per day. During the summer months, visitors are also provided buckets of fish food to hand-feed the fish in any of the many ponds on the property.
Their stocking season begins in January and stays very busy from mid-February until mid-June, when the water temperature in most waters gets too warm to stock trout. They resume stocking in late September once waters cool down from the summer temperatures, and continue through December.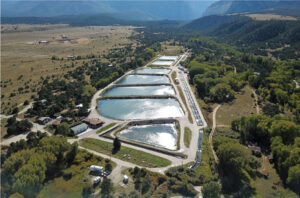 The water for the hatchery comes from Chalk Creek and is either returned to the creek or used to irrigate nearby hay fields. Due to the proximity of the hatchery to upstream hot springs, there are some challenges to maintaining the proper temperature for fish rearing. The warmer water is a benefit in winter, as it helps prevent the raceways from freezing over.
Occasional problems arise during heavy rainstorms when large amounts of soft 'kaolite" are washed down from the Chalk Cliffs into Chalk Creek just above the unit's headgates.
In all, there are seven rearing ponds and two raceways. The raceways are concrete troughs which hold smaller fish (two to five inches long) most of the year and can each hold up to 300,000, two-inch long fish. Most of the fish are brought in from other Colorado Parks and Wildlife hatcheries as fingerlings, but they also raise some of the fish from eggs on site.
Each pond holds about 70,000 to 85,000 fish except the bottom pond which holds about 35,000. Once the trout reach a catchable size of ten inches long, they are ready to be stocked and are hauled in insulated tanks which contain agitators to keep water circulated. The hatchery makes over 100 stocking trips per year, with each trip delivering 4,500 to 8,000 fish. The hatchery is supported by the sales of fishing licences statewide and not by tax dollars
The hatchery is great place to bring the family as an awesome learning experience with great views. It is open 9 a.m. to 4 p.m. every day and has on-site staffing at its visitor center from Memorial Day weekend through Labor Day. There is a clearly marked visitors parking lot and they ask you to leave pets and fishing gear in your vehicle.
GETTING THERE: The fish rearing unit is located at 22605 County Road 287 in Nathrop. From U.S. 285, south of Buena Vista and north of Salida, turn west on County Road 162 towards St. Elmo and, in less than a mile, turn right on 287. They can be reached at 719-395-2378.