By Mike Rosso
If I were to use one word to describe Browns Park in northwestern Colorado, it would be "remote."
The nearest towns of any significance are Craig, Colorado, Rock Springs, Wyoming, and Vernal, Utah, all of which are at least 90 minutes away by automobile. Save for a few cattle ranches, there are few human inhabitants.
Browns Park or Brown's Park, originally called Brown's Hole, is an isolated mountain valley along the Green River in northwest Colorado and western Utah, east of the Flaming Gorge National Recreation Area. Archaeological studies at Browns Park show that prehistoric people were present as many as 8,000-10,000 years ago.
Browns Park is also known as a former haven for outlaws such as Butch Cassidy, Tom Horn and Harry Alonzo Longabaugh (the Sundance Kid) during the late 19th and the early 20th centuries. It was also the birthplace of Ann Bassett, who, along with her sister Josie were supposed partners in crime as well as girlfriends to several of Cassidy's Wild Bunch gang.
The John Jarvie Historic Ranch District, in the Utah portion of Browns Park, was listed on the National Register of Historic Places in 1986. Jarvie, a Scotsman, built a ranch along the Green River to offer store goods, operate a post office and run a ferry used by Indians, fur trappers, travelers and local residents. On July 6, 1909, Jarvie was shot and killed by a pair of sheepherders who were robbing him. The remains of the ranch are open to the public except in the winter months.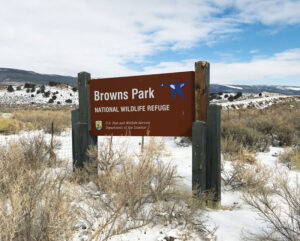 Established in 1965, the 13,450-acre Browns Park National Wildlife Refuge is located in Moffat County on both sides of the Green River, between the Cold Springs and Diamond Mountains, approximately 25 miles below Flaming Gorge Dam. The refuge contains the site of the former Fort Davy Crockett constructed in 1837 to protect trappers against attacks by Blackfoot Native Americans. It consists of bottomland and adjacent benchland.
The acquisition of the land occurred in August, 1963 in order to develop and manage waterfowl habitat in that portion of Browns Park within the state of Colorado.
The primary purpose of the refuge is to provide high-quality nesting and migration habitat for the Great Basin Canada goose, ducks and other migratory birds, conserve endangered and threatened species, and offer wildlife-dependent recreational opportunities. It is home to approximately 200 species of birds at various times of the year. I've personally witnessed great blue herons, owls, mallards and bald eagles on my two visits to the Refuge in the past year.
Wild horses also roam freely in the Refuge and its surrounding area. In fact, if you are driving there via Craig, you'll pass right by Sand Wash Basin, home to an extraordinary herd of wild horses. Electronic highway signs urge caution about the herd at each end of the Basin.
Because seasonal flooding no longer naturally replenishes the wetlands along the Green River, the Refuge staff pumps water from the river into these areas. Water is also diverted from Beaver and Vermillion Creeks. These water diversions create 1,755 acres of wetlands.
The River's Edge Wildlife Drive takes you through a variety of Refuge habitats and provides good opportunities for viewing wildlife with a passenger vehicle. A shaded campground can be found at the western end of the drive. All other dirt roads are only seasonally passable and are not maintained. Four-wheel drive or high-clearance vehicles are recommended for these roads. Seasonal road closures may be in effect.
Hiking is permitted throughout the Refuge. There aren't many designated trails, but there are lots of opportunities to get out of your car and hike cross-country. Just don't depend on your GPS for directions as cell phone service is spotty at best. Hunting and fishing are permitted in designated areas. Many anglers and other boating enthusiasts paddle the Green River though the Refuge which lies just above the popular Gates of Lodore stretch of whitewater.
The Refuge is one of over 560 refuges in the National Wildlife Refuge System—a network of lands set aside specifically for wildlife.
If you go, consider a side trip to Dinosaur National Monument, off U.S. Hwy. 40 near the town of Dinosaur, Colorado, to get your T-Rex fix.
GETTING THERE:
Browns Park NWR is 60 miles northwest of Maybell, Colorado, and 95 miles south of Rock Springs, Wyoming. Please call the Refuge staff for directions and road conditions. The Refuge office is located approximately one mile east of the Colorado and Utah border on State Highway 318. Because of the remoteness of the Refuge and lack of cell phone coverage, visitors should be prepared in case of an emergency. Bring extra water, food and warm clothes. Due to COVID-19, the office may not keep regular hours. Best to check ahead by visiting: www.fws.gov/refuge/browns_park/
The Places column is sponsored by Mark Zander and Leslie Champ.