by Ericka Kastner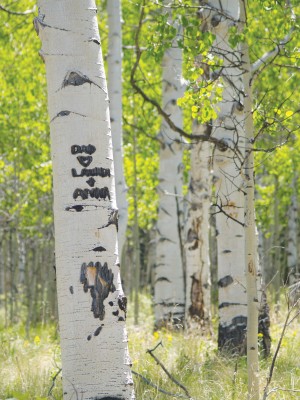 Aspen Ridge is highly regarded by Colorado leaf-peepers touring on four wheels in the fall, but fewer people consider the area's beauty and recreational merits for two-wheeled outdoor enthusiasts in the spring and summer.
The nearly 40 miles of double track spanning from Salida to just east of Johnson Village on Trout Creek Pass is a sweet pedal adventure and offers numerous route options to vary the difficulty level. Topping out at 10,000 feet in elevation, Aspen Ridge is a fabulous side-by-side journey for group mountain biking excursions, both as an out and back ride from either end of the road or as a longer, shuttled one-way jaunt.
Rolling along miles and miles of gravel road in the San Isabel National Forest, riders are treated to breathtaking views of the Collegiate Peaks and high mountain meadows lush with wildflowers and thick with aspen groves. At the right time of day (early morning or late evening, due to midday ATV use in the area), sections of Aspen Ridge can be intensely quiet and offer blessed solitude and a tranquil setting for a mid-ride nap in a hammock or an overnight camp.
It's worth noting that sections of the road can be very steep in spots and are frequently covered in loose gravel and small boulders, making pedaling a bit more challenging for novice riders. When approaching the Fourmile Travel Management Area at BLM Road 300 (near the northern end of Aspen Ridge/Bassam Park), advanced riders may opt to make a westward turn toward the more technical Chinaman's Gulch jeep route. Pinch flats are common throughout the area and carrying a spare tube and bike pump is advised.
Getting there: From Johnson Village on U.S. 24/285, drive approximately 9 miles east to a turnoff to the south onto FSR 307. (Look for the old train cars parked at the turn.) Follow the signs for Aspen Ridge, traveling along FSR 307, 187 and 185 and eventually turning southward onto FSR 175/Ute Road and to Hwy. 291 to head into Salida. Alternatively, start in Salida and do the route in reverse.
Looking to map the route? Pick up a copy of the Latitude 40 Salida/Buena Vista Colorado Trails Recreation Topo Map to preview the area in detail.
Logophile Ericka Kastner writes from her loft in downtown Salida. Though she's been pedaling Colorado singletrack for 20 years, Ericka only recently learned how to change a flat tire on her 29-er. To view more of her work visit erickakastner.com.