Article by Columbine Quillen
Local Artist – November 2003 – Colorado Central Magazine
MANY AREA RESIDENTS are familiar with Peg Corthoust. She was one of the fastest skiers at Monarch's Town Challenge Race last winter and she loves a good river trip. She always seems to be smiling and ready for a tasty conversation or a funny joke. But what a lot of people don't know about Peg is that she is a phenomenal painter.
You can talk to Peg for hours and she'll never mention that she's a nationally recognized artist — or that she is one of those few artists who make their living entirely off of artwork.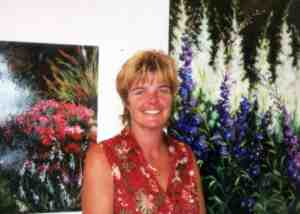 Peg started painting as a child in Coventry, Connecticut. Her mother recently sent her some of her first paintings, which were attractive yet crude renditions of landscapes and buildings. Peg had obviously not fine-tuned her skills with depth and color. The most distinctive property of her early works was her large signature in a bottom corner. But Peg obviously had talent and from the ages of thirteen to eighteen she took private lessons to learn the fundamentals of light, perspective, and color.
Peg knew she wanted to have a career in art when she left high school, so she enrolled in the Art Department at Arizona State University. Originally, she decided to leave her New England home because she heard that ASU had a good graphic design department. But Peg soon realized that she didn't enjoy graphic design because she didn't want clients telling her what to create or making deadlines for her. So she began taking classes in print making, which would eventually help her establish her art career.
Peg didn't think that she would be able to make it on art alone, however, so she also planned to be an art teacher. After she graduated in 1983, however, she didn't find a job as an art teacher. Instead, she found work at an art factory printing other people's etchings for commercial sales.
"I was literally painting by number at this art factory," she says. But she picked up a considerable amount of information and experience there, and after two years she felt comfortable enough to go out and produce her own work.
"I learned a lot more after college than I learned at school."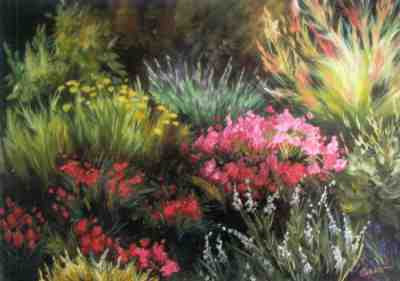 And her risk paid off. After two years of working on her own and selling her work at local galleries, the Winn Art Corporation noticed some of her paintings in California and offered to publish her posters.
Peg jumped on it and began painting for Winn. Then, NBC bought one of her compositions. Peg has seen it on Seinfeld, Mad About You, Friends, and most recently Scrubs. "My friends will call and be like, turn on the TV right now! It was just on the scene with the doctors!"
Peg decided that she wanted to leave Phoenix and moved to Bailey, Colorado, in November of 1990. She was living in Bailey and working for Winn when she came to the Salida area for a commercial raft trip down the Arkansas with River Runners.
"I decided that I could live anywhere there was a UPS truck so I moved to Coaldale."
And Coaldale is where she has been ever since. Peg lives on a beautiful piece of property overlooking the foothills of the Sangre de Cristos with her two dogs and a pet rabbit.
IN 1994, she decided to leave Winn. It was not an ideal situation since they owned the rights to her work and made most of the profit. So Peg decided to go out on her own and was able to find reps willing to sell her art.
During the first years on her own, Peg went to an annual expo in New York City where art representatives attended along with interior decorators who bought art for commercial spaces.
Currently, she works in a studio behind her house; it has a large open space — about the size of a two-car garage. Peg paints mostly on 100% rag paper using gesso, which is a primer, and oil paints. She does some palette knife paintings, but one rep has an exclusive on them, so she does more brushwork. The floor of her studio is covered with drying paintings, but her two dogs know exactly where they can and cannot walk. Peg is currently working on a lot of flower art because that's what's selling, but she also does landscapes.
"I've been working on florals since around October of 1999, but it seems like I just started doing them."
In particular, she is busy working on poppy paintings, "I just can't do enough of these damn poppies."
One of the paintings that she is most proud of, but that cannot be sold, is one a bear scratched. She's had a couple of bears enter her studio through the window — although she has personally never seen one come in.
Her floral paintings definitely stand out more than her landscapes because of their brilliant colors. Although you can't help but be awed at the rich detail and the use of light in her landscapes, the flowers seem to jump out and scream, "Look at me."
Due to their impressionist qualities, the paintings look best viewed from a bit of a distance in order to appreciate their depth and beauty.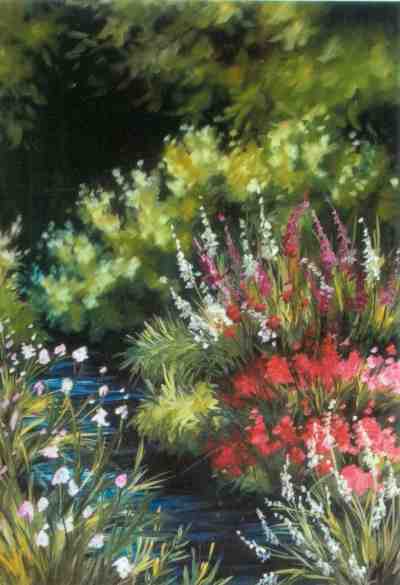 In most of her floral paintings, the background is dark, sometimes even black, in order to bring out the brilliant reds, yellows, and blues of the petals and allow the greens of the stems and leaves to tie the flowers in with the background.
SOME OF HER FLORAL PAINTINGS have a Van Gogh quality to them, in the way she blends bright oranges with flat yellows on the petals and the distinct way she paints the leaves (which almost look to be melting away from the flowers).
Peg gets ideas from magazines like House and Garden, flower books, seed packets and people's gardens. "I've been known to snoop into someone's yard and take a photo." Although each painting is an original she does seven different variations of the poppies. "I'm glad to see that bright colors are back, I'm having a ball with this … It used to be all magentas and greens that sold, but now it is bright reds and greens."
And her productivity is as impressive as her painting skills.
"I average two to three paintings per day. They take two weeks to dry with fans blowing 24-7 . Then I varnish them, which only takes one day to dry."
Peg Corthoust works year round from 9 a.m. until 4 p.m. except when she is on vacation. Her art can be found in every state in the nation and may be bought locally from her website, www.peggycorthoust.com.
When she's not writing or proofreading for Colorado Central, Columbine Quillen tends the bar at Benson's in downtown Salida.