By Ron Sering
The revegetation of CB Ranch near Coaldale will continue through a stewardship agreement between the Colorado Springs-based Palmer Land Trust and the Security Water and Sanitation District. The 200-acre plot of land near Coaldale was acquired by the city of Security in 2013. Under terms of the acquisition, the Security Water and Sanitation district owns both the senior water rights, and the land itself. The city applied in Colorado Water Court to convert the water rights from agricultural to municipal use, bringing agricultural use of the land to an end.
The Coaldale Alliance, a local citizen's group, raised more than $10,000, and along with the Upper Arkansas Water Conservancy District, filed a letter of opposition in water court. The parties subsequently negotiated a plan to revegetate the area, as well as for future plans for the property. "It is one of the remaining swaths of open space in the Pleasant Valley," said Kristie Nackord, Coaldale resident and a communications director at Palmer Land Trust. "We wanted to find a solution that works out in the best interests of both communities."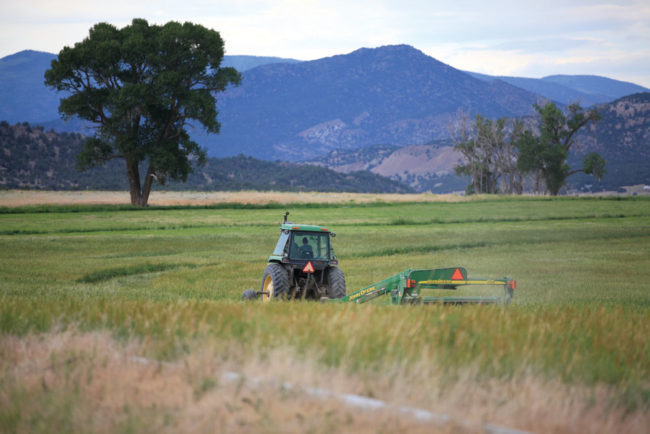 Security, along with other communities along the Front Range, face a water crunch of their own. The district has noted perfluorinated compounds (PFC) contamination in their water supply, potentially threatening the health of their steadily growing population of 19,000 residents. Security and other Front Range communities filed suit alleging that firefighting foam used in military training exercises is responsible for the contamination. Both the civil action and studies of the degree of contamination, as well as potential health impact of the contamination, continue.
In acquiring the CB Ranch water rights, Security also assumed responsibility for the land, including revegetation; ceasing irrigation and the subsequent dry-up makes the land vulnerable to proliferation of noxious weeds, such as tumbleweeds, as well as increased erosion risk. Security hired an environmental firm to prepare a revegetation plan.
The Alliance and Security reached an agreement in December 2019 to enact a five-year stewardship covenant on the land, managed by Palmer Land Trust. "What makes this arrangement unique," Nackord said, "is that it is enforceable in court."
Security retains the option to sell or subdivide the land. However, the stewardship covenant awards Palmer Land Trust oversight of the revegetation effort for a five year period regardless of who owns the land or how it is used. Their oversight includes determining the types of seed used in the revegetation, monitoring progress.
"Roy (Heald, head of the Security Water and Sanitation District) and his board did not have to do this," Nackord said. "It was important to have an agreement that was in the best interests of everyone."
"I see people stopping along Highway 50 to take photos of the Sangres rising above these lovely fields, and we'd like to keep CB Ranch as open space for everyone," Nackord said. "This covenant is just the first leg of the journey."