By Leslie Jorgensen and Dena Zocher
The purity of untracked snow. The silence and majesty of the backcountry in winter. The joy and adventure of experiencing nature on its own terms.
These things and more are luring growing numbers of skiers in Colorado to venture outside the groomed, mechanized boundaries of ski areas. But behind the sheer exhilaration, underneath all that unequalled beauty, lies a serious, life-threatening risk: Avalanche.
For ski resorts, customer safety is essential, and these properties are carefully mitigated for avalanche risk. But in the backcountry, even the most experienced trekkers need to take the potential of an avalanche very seriously.
According to the American Avalanche Association:
• 20-40 people die in avalanches each year in North America.
• 90 percent of deaths are from slides triggered by the victim or members of the victim's group.
• The chance of survival for a person buried by an avalanche is only 30 percent.
Experts we spoke with said the early snows this season are making for high avalanche danger in the backcountry. The good news is, you can reduce your risks and maximize your enjoyment by coming prepared: Learn how to read the terrain, bring the right equipment, watch current conditions and understand what to avoid.
This article is meant to help you get a basic understanding of what it takes to enjoy safer backcountry skiing. Check out the list of references at the end of the article to learn more.
Go prepared and have a great time! Follow these three steps to get started: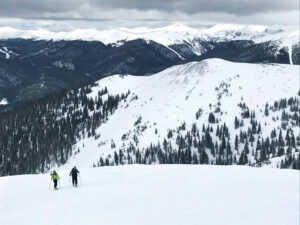 Step 1: Education & Equipment
Before you head out to the backcountry, first learn snow safety and how to use survival gear. The Colorado Avalanche Information Center (CAIC) provides free introductory programs throughout the state. Check their website for upcoming Know Before You Go programs in your area. www.avalanche.state.co.us
Beacon, shovel and probe are the minimum pieces of equipment you'll need. Some of the guides we spoke with also recommend an inflatable airbag, which can help keep you at or near the surface of the snow during an avalanche, and an avalung, which pulls air from the surrounding snowpack and expels the CO2, should you get buried or just get stuck in a tree well.
"The current avalanche situation is a bit frightening," says Jay Irwin, owner of Colorado Adventure Guides. "There's a weak snow layer deep down. At Thanksgiving, we had a slight warming trend that caused facets [poor bonding] in the snow and then we got a ton of snow on top of that. It's set up like ball bearings, where the heavy top layer could roll off at any time."
The gold standard in avalanche safety training is the American Institute for Avalanche Research and Education (AIARE). There are several guide services that offer AIARE Avalanche Training, general backcountry safety and wilderness first aid. Here are just a few in the area:
• Colorado Adventure Guides offers several AIARE Level 1-2 safety courses, including multi-day hut-based trips. www.coloradoadventureguides.com
• Buena Vista Mountain Adventures offers avalanche education, backcountry skills, and medical training. www.bvmountainadventures.com
• Irwin Guides: Rescue courses from AIARE Level 1 through SAS Pro training. Irwinguides.com
• Rocky Mountain Outdoor Center offers AIARE backcountry courses and a wilderness first aid course. www.RMOC.com
• Sawatch Guides offers AIARE Level 1 training, hut trips and guided tours. www.sawatchguides.com
Step 2: Practice, Practice, Practice
Within the safety of your local ski area, there are great ways to get time with your gear. Since backcountry recreation involves hiking UP the mountain, you'll be getting used to skinning up on all-terrain (AT) skis, Telemark skis or a split board. You'll also need to practice using the essential equipment: Beacon, shovel and probe.
At the end of the article, we've listed some great Colorado ski areas that provide training and backcountry access for both beginners and those who have experience.
Step 3: Beyond the Ropes
Go with a Buddy: Never go alone. Know how to use avalanche gear and always carry it. Be sure to plan your route ahead of time and let others know where you'll be going. Choose to go with friends who are experienced and AIARE certified. Remember the training you received in your AVI 1 course about reading the terrain and snow conditions.
Know the Terrain: Hill Map is an online tool to help plan your route ahead of time to learn trail orientation, slope angles and other important information about the area where you'll be headed. Staying on slopes at or below a 30? angle helps minimize avalanche risk, so it's helpful to know ahead of time where the steeper terrain is located.
Check the Weather and Avalanche Forecast: For daily avalanche conditions, check The Colorado Avalanche Information Center (CAIC) www.avalanche.state.co.us
Resources
Training and Day Trips:
Monarch Mountain (Skimonarch.com) offers uphill access for free to pass holders and $20/season for non-pass holders. Just stop in at the pass office to sign a waiver and learn the routes. If you go before or after hours, you can skin up at sunrise or under the full moon. You can even bring your dog. Monarch also hosts Backcountry Days (check website for dates), featuring touring gear demos and a patrol-maintained beacon park to practice using your beacon.
More advanced skiers and riders can purchase a guided cat skiing tour. Monarch Mountain recently expanded its cat skiing terrain to 1,635 acres of diverse terrain beyond Mirkwood, featuring open bowls, steep chutes and tree skiing. Visitors get the "first tracks" experience outside the ski area, but in a carefully mitigated terrain. The program includes a guided experience that includes powder skis or snowboard demo, lunch in an exclusive yurt and beer or beverage at the end.
Ski Cooper (Skicooper.com) offers uphill access for free to pass holders and $20/season for non-pass holders. Be sure to check in at Guest Services to learn the rules and available routes and get your access pass. Ski Cooper also offers a five-week Reach for the Ridge learning program for adults looking to develop confidence in their skiing skills off-piste. Ski Cooper offers cat skiing on Chicago Ridge with 2,600 acres of terrain. You can book a guided skiing adventure, available to intermediate and advanced skiers only. The day includes a hot lunch in a backcountry yurt, use of individual rescue beacons and powder skis or boards and a traditional après ski with choice microbrews and snacks. Advance reservations are required. Sightseeing cat tours are also available.
Overnight Excursions:
Tennessee Pass (Tennesseepass.com), located next to Ski Cooper, has a beautiful Nordic center complete with overnight yurts to give skiers an overnight backcountry experience. With the Tennessee Pass Sleep Yurts, visitors have their packs delivered by snowmobile so they can ski untethered to the yurts, about 1.2 miles in. There's a wood stove, hot pad and stocked kitchen area, and comfy beds. You can even treat yourself to meals at the Cookhouse yurt.
10th Mountain Division Hut Association (huts.org) is a system of 34 backcountry huts in the Colorado Rocky Mountains, connected by 350 miles of suggested routes. The name honors the members of 10th Mountain Division of the U.S. Army, who trained during World War II at Camp Hale in central Colorado. Guests get to step back in time and experience a true backcountry adventure.
Summit Huts (summithuts.org) also develops and maintains a system of backcountry cabins accessed by non-motorized trails in Summit County. Summit Huts manages four popular backcountry huts and is poised to open the new Sisters Cabin this year.
Avalanche Safety Resources:
American Avalanche Association
(avalanche.org) provides real-time avalanche information.
Colorado Avalanche Information Center (avalanche.state.co.us) provides daily avalanche forecasts and current conditions as well as educational resources.
Safe Route Planning:
www.hillmap.com: Topo maps with slope angles
www.powderproject.com: REI's app for trails in the backcountry.
You can always stop in at your local ski patrol office for advice on backcountry trails.
Avalanche Education Resources:
AIARE Avalanche Safety Training: avtraining.org
Colorado Mountain College: coloradomtn.edu/programs/avalanche-science
Monarch Mountain Mountain Ops blog: skimonarch.com/category/mountain-ops 
Leslie Jorgensen is a contemporary artist who paints her experiences skiing, hiking and biking in the Rocky Mountains and the West. She lives with her husband and ski partner Ron Salerno in Salida. More at www.lesliejorgensen.com
Dena Zocher writes about interesting people doing interesting things in interesting places. She aspires to live and write as the spiritual child of Mary Wollstonecraft, Studs Terkel, Rebecca Solnit and Anthony Bourdain. You can find her at www.dzcontentstrategy.com