…with Douglas Crowwolf
Sometimes the old ways are the best ways. Douglas Crowwolf is a Lakota artisan based in Monte Vista, where he makes custom moccasins, bracelets, wrist cuffs, medicine bags and — in a nod to modern times — phone cases, among other crafts. He sells his work online and out of the gallery and shop Faemoon Wolf Designs in downtown Monte Vista. I visited with Crowwolf to learn more about his background and how he learned his ancient craft.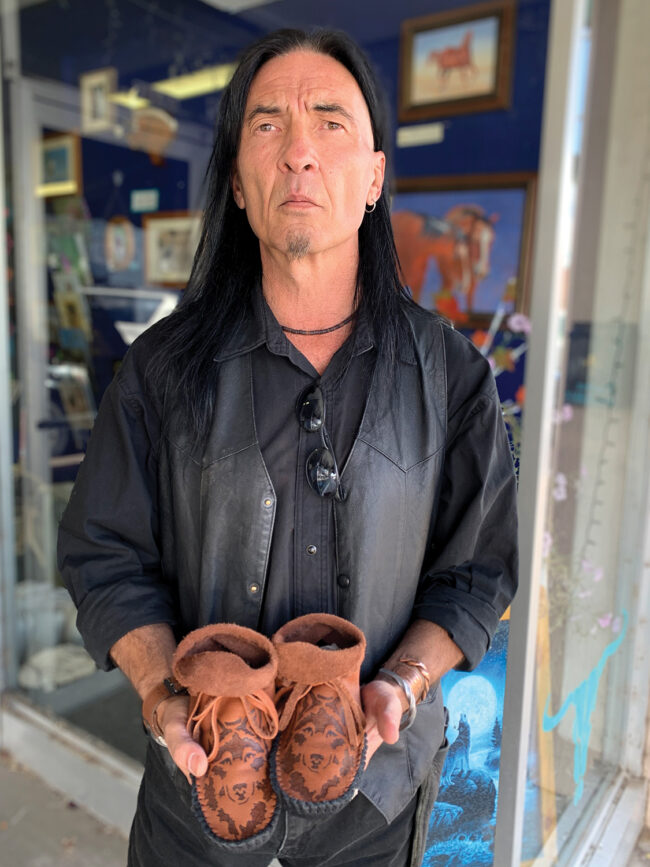 Are your roots in the Valley?
No. I'm originally from South Dakota. I moved out here about 10 years ago. My dad came out of the military. For his civilian job we traveled a lot. I was born on his travels. I always say South Dakota because that's home to me.
You are a Lakota Sioux?
I am Lakhota. Most people leave the "h" out, but the correct pronunciation has the "h" in it. La-khota. We speak differently than English … and we don't have swear words in our language. Worst thing you can call someone is a mooka tatanka. Stinky buffalo. In our language, you don't want to be called that.
So you didn't grow up on the reservation because you were traveling?
I spent a lot of time there. We came back a lot. Pine Ridge is the poorest reservation in this country. Tires on roofs, blankets over windows because there's no glass. And a lot of us don't go home for that very reason — because we want a better life.
Have you spent enough time there to have thoughts on how it might be improved?
Housing. Hope for our kids. We have one of the highest suicide rates in this country because they see no hope in their world. And the racism we get when we come out here … is mind-blowing, even here in the Valley. I mean, I'm not as dark as my brothers and sisters back home — I'm a half breed. I'm proud of it. I know who my people are. My dad was Lakhota and my mom was Cherokee.
How did you learn leathercraft?
I was taught by elders. I went through my manhood rites as every young man does, but every young man has what they call a niche. It's what you excel at … and I learned as a young man how to do leathercraft by hand, the old way.
What makes a good moccasin? Why do people seek yours out?
People want something that's handmade. They want to feel the earth beneath their feet. That's what I give them. When it's something that's made by hand, it has a soul. Machines do not because machines are dead. Something that has a prayer put in every stitch is sacred.
What is the process?
I make my moccasins by tracings. People trace their feet. They send them in the mail or if they're local they come here. We trace their feet here, we talk color, design, burn if they want. So your pair of moccasins are only made for your feet — nobody else.
What percentage of your moccasin business would you guess comes from Native American customers?
I would say probably 75%. They get them for powwow, for the circle. I've delivered moccasins to the eagle staff carrier at the Denver powwow, to his hands. He's the one that leads all the dancers going into the Denver powwow.
They're being worn at Sun Dance, which is very sacred. They're used in a lot of ceremonies.
But you don't object to white people wearing them?
No! They're made for everybody. They are shoes! Wear them. Wear them every day. I have no problem with anybody wearing them. I've got them in Ireland, Scotland, Germany, the UK, France, Australia … . That just makes me feel good. I made them for a whole band in Japan! People order them to wear around the house. They're made for everyday wear. I hike in mine.
Do you still have relatives on the reservation?
I've lost all my family. I'm the last of my bloodline. No children. I lost both my dad's parents before I lost him to white man's alcohol the summer I turned 15 when I was going through my manhood rights. It still hurts me. My mother passed in 2000 to cancer after five years, and I've been alone ever since. And I still walk my path, the gray road, between life and death, which is my family's spiritual path.
Are there places in the Valley where you've felt power or energy?
Yeah, there are. Witches Canyon (near Del Norte) is a prime example. When I walk in, the hair on the back of my neck stands straight up. I have found paintings that aren't on any map, and I can read them. Everything has a spirit in this world — the rocks, if you listen, they talk, and they'll tell you the history because they're the keepers of knowledge because they're here for millions of years and they hold that in. The trees, if you talk to them, putting your hand on them, they have a heartbeat, just like everything else.
You mentioned putting together a powwow here in the Valley. Are you hoping to do that in '23?
I'm hoping, if I can get funding. Most people don't realize it's very expensive to put a powwow on. About $40,000 to put on something not on the same scale as Denver. I'm talking about four drum groups, a large powwow. Drum groups get paid. Big names get paid, and you gotta pay for your venue. I'm talking to an indigenous group that's a 501(c) up by Buena Vista (about funding).
Are there any powwows traditionally held around here?
The Ute do the Bear Dances around the Antonito area. There are spring and fall Bear Dances, and it's our women that don the bear hides and do the Bear Dance.
Do you have any reading or viewing recommendations for people wanting to learn more about Native culture and history?
If you're looking up books on Native Americans, always look up Native American authors because they're not shaded. Those are the ones I try to direct people to.
Patrick Regan works on new books and old houses in Salida. His next book, co-written with fellow Salidan, Travis Macy, is called A Mile at a Time and is currently available to pre-order!