by Eduardo Rey Brummel
Back in 2003, when Craig Nielson was hosting monthly "P3" (Poetry Prose Performance) evenings at the former Bongo Billy's Café in Salida, he would occasionally witness ensemble performances, which he had also seen during a local poetry festival named Sparrows. Liking the idea of working with other poets, he conceived of creating a collaborative poetry troupe, and asked four area poets – Laurie James, Peter Anderson, Lawton Eddy and Lynda La Rocca – to join him in forming the River City Nomads. It speaks to both Nielson's discerning eye and the gracious supporting nature of all five poets that they're still together and performing nearly twelve years later.
While being part of a poetry troupe was new, none of the Nomads were new to poetry: La Rocca published her first collection in 1993; Nielson's collection, Touch of Grace, was published in 2005; James was cofounder of the Sparrows Performance Poetry Festival; Eddy had begun writing poems when she was just eight years old; and Anderson was publisher of Pilgrimage, a poetry magazine based in the San Luis Valley, and had won the Academy of American Poets Award back in the latter part of the 1980s.
Anderson has voiced what has become an axiomatic ethos regarding the Nomads' performances: "You're either making love to the audience, or you're making love to yourself." Also along those lines, La Rocca has said, "I always, always, always think of the audience first and of how people have a million other things they could choose to do, but they've chosen to come here and see/hear the River City Nomads. So we owe them the best we can possibly give, and we always try to give them something – a smile, a tear and everything in between."
For each performance, the Nomads work from a script. Once they've accepted a gig, they decide on a theme, and each member composes three to five poems based on that theme. Recent themes have been: Letters, Fathers, On the Road and Longing. The poems are then gathered and a draft script is created, typically by Nielson, weaving the five voices into a narrative whole. Afterwards, they meet to go over and edit the script, deciding which poems to keep or add, and in what order. "It's a unique process," says Nielson. "Somehow it seems to magically work, blending our five distinct voices together in a way that creates a diverse and strong narrative, rooted to place and ranging in tone from humor to pathos."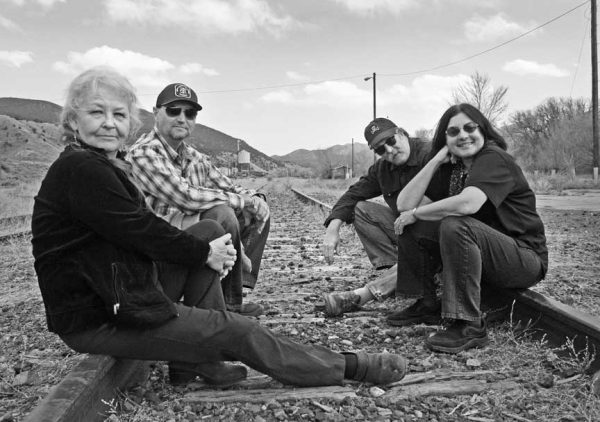 The Nomads' first gig was during Sparrows, in 2004. They must have been successful – nerves, feelings of awkwardness and all –  as they were asked back the following year, and again in 2006. Shortly afterward, invites started coming in from throughout Colorado. The Nomads have performed for: the Karen Chamberlain Poetry Festival in Carbondale; Western State University in Gunnison; the Mercury Theater and Ziggies, both in Denver; The Cavalcade in Fruita; Fort Morgan, where they also held a workshop; and Crestone, last October, as part of the local festivities commemorating the 50th anniversary of the Wilderness Act. They've been on the road so much, so "nomadic," you might say, that their last performance in Salida was over four years ago, in May 2011, as part of a Colorado Art Ranch Artposium.
There's been a recent change in the Nomads' world. For the next eight months, Anderson is in New Hampshire, on sabbatical from his teaching position at Adams State University. In the past, other poets have filled in for absent Nomads: Barbara Ford, during the Artposium, and former Denver Poet Laureate Chris Ransick in Crestone. Nielson and James are uncertain whether the group will still do this while Anderson's away. "Maybe we'll take the year off," said James.
Perhaps no small reason the Nomads have stayed together all these years is because of the powerful friendships that have developed among them, and because they have so much fun when they're performing. Ask any Nomad about the troupe, and in their reply you'll immediately sense the delight in being onstage with the rest of the Nomads, as well as the marrow-deep love and regard each has developed for the others.
One reason they remain in demand is due to this same one-two punch of camaraderie and joy in getting to perform together. I suspect that as long as people continue trying to make sense of their lives, the River City Nomads and other performance troupes like them, with their stories of real people in real places with real lives, will continue to entertain eager audiences and will continue being in demand.
As author Barry Lopez said, "Sometimes a person needs a story more than food to stay alive."
Eduardo Rey Brummel has lived in Chaffee County for over twelve years – the longest he's lived anywhere.