Article by Marcia Darnell
Downtowns – January 2007 – Colorado Central Magazine
IT'S AN UNUSUAL PATH, from making pottery and being a merchant in Taos to directing revitalization in Monte Vista, but Lynn FitzGerald has made that journey with grace and determination.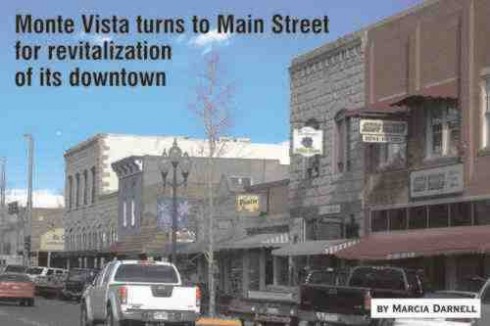 FitzGerald is leading the Main Street program in Monte Vista, attempting to revive the town's stagnant economic base and suffering tourist area. Her title is Main Street Director, and she works for the Dream Team (Downtown Revitalization Economic Ambassadors for Monte Vista), which has the no-waffling slogan, "What Monte Vista builds, builds Monte Vista."
Monte Vista needs a strong dose of tonic, though. With a population of 4,500, the hamlet has 11 empty commercial buildings and 71 homes for sale.
Realtor Margy Robertson, who provided the figures, says "I'm more concerned about downtown than about the homes. If the city doesn't have a business climate that appeals to businesses, it won't grow. We need some way of promoting Monte Vista better, then the housing problem will take care of itself."
The town seems to be taking its problems seriously. It went through the application process for the Main Street program (see sidebar) and the city government put up enough money to pay FitzGerald for three years. After that, the program must be self-sustaining.
This is FitzGerald's first stint with Main Street. "I think it's a great plan," she says.
[Empty buildings in downtosn Monte Vista]
FitzGerald was throwing pots in Taos and selling them north of the Plaza when things got complicated. Tourists flocked to the Plaza, but then went home — bypassing her commercial area and other sites. FitzGerald worked with the city and other merchants to transform a dingy alley into a vibrant pathway.
"We added paving stones, big planters, nice signs and other visual enhancements," she says. "It took over two years."
But it worked, and dollars were funneled north. FitzGerald turned her energies to the rest of the city, in order to direct tourists to everything the town had to offer. She worked with a now-defunct group, the Taos Project, to get a grant for a community roundtable. The group drew on property owners, merchants, politicians, and just plain folks to focus on what was best for Taos.
They were all asked, "What would you want to see?" And committees formed to improve everything from lighting to restrooms to events.
The town held a contest to find good designs for signs, creating a "footprint" to guide tourists to areas of interest. Signpost "caps" were created above street signs to indicate areas of interest. The group also created an historic walking tour, with a brochure and map.
[Large empty storefront in downtown Monte Vista]
"That created incredible traffic at those sites," FitzGerald says. "We had a lot of collaboration between merchants and the rest of the town," she recalls. "We got the city public works and parks and rec involved…. And people got very creative in how to fund things."
For FitzGerald, community involvement led to a whole new career. She sold her shop, and for five years she worked full-time at improving Taos. Eventually, FitzGerald joined Main Street, which she says was a natural progression, and she was hired by the Dream Team in September.
"It's pretty astounding," she says of the transformation, but she feels that having been an artist was an asset in revitalization work. "When you're a design-oriented person, you can see what can be," she says.
FITZGERALD IS STILL getting her bearings in Monte Vista, but she says the town has "good bone structure." It needs to slow through traffic and enhance its buildings, though.
Monte Vista enhanced Adams Street a few years ago. Attractive crosswalks, "bump- outs" to slow traffic, and other visual stimuli have created a pedestrian-friendly street that has attracted several small businesses.
[Lively street in downtown Monte Vista]
A company has already been hired to redesign the city's entrance from the east, and FitzGerald plans to start immediately on getting business owners involved in the Main Street project.
"Merchants are in the trenches," she says, "They see everything — traffic, safety concerns, spending patterns. They're the best resource you can get for revitalization."
Getting the whole community on board is a challenge for Main Street. Monte Vista artist/merchant Tom Lockhart is already involved, attending the Dream Team's meetings and contributing ideas to the project.
"I'm cautiously optimistic," says the lifelong resident. "Monte Vista needs a lot of help. I think we're going to have to do a lot more than just hiring Lynn, we're going to have to change our entire way of thinking, our farm-based mentality. We need to change everything about Monte Vista for the last hundred years."
Lockhart has seen a lot of resistance to change in his day, and says it has harmed the town's development.
"Monte Vista is in a structural bind," he points out. "The way the town is laid out is resistant to any form of expansion or development — or a way to stop tourists. The railroad snakes through town, so expansion is difficult. Zoning was never done properly. Homes are mixed amid commercial buildings, and they're not in good condition, so it looks bad to drivers.
"It's a pass-through town," Lockhart continues, "and we need to restructure it to get people to stop. There's No RV parking, no 'household names' chains, and U.S. 160 just runs through town."
Lockhart's gallery is successful, he says, but less than one percent of his business is local."I can't do it by myself," he says. "Tourists shop at my gallery, then ask for lunch directions, but there's nothing else for them here. We need something to do, some reason for them to stop in Monte Vista.
"My biggest concern is the empty buildings downtown," he says. "Most are large buildings, they're going to require furniture stores, automotive shops, something like that. We need to either scale down or divide them up to appeal to retailers. Those types of large businesses went out of business there, and we can't bring in the same thing in the same environment.
LOCKHART POINTS TO Loveland as an example of a successful transformation. "Loveland ten years ago was the same. They did some rezoning, allowing small businesses and cottage industry in old homes. That leads to pedestrian traffic, which brings in money, which then can be used for renovations."
He believes that Monte Vista has a lot to offer new business owners and residents." Anyone would have an easy commute, it's affordable, it has beautiful scenery, is close to the mountains — and it's an easy lifestyle," he says.
[Lynn Fitzgerald, Monte Vista Main Street manager]
Linda Hagedorn, vice president of the Dream Team, has been in Monte Vista for 31 years. "I got involved in Main Street because I have a vision for our town and I felt Main Street fit that vision," says the banker. "I am absolutely confident the changes will come about. We all have our vision and our mission and our direction. We will have a wonderful Main Street Monte Vista."
The changes she foresees include grants to make vacant buildings more marketable and hiring a firm to evaluate the town and make recommendations for improvements.
Hagedorn plans to send out surveys to community members and have a community meeting. ("We will definitely work off those surveys.") She wants to produce a newsletter on the project's progress and, of course, is hoping for volunteers. She agrees with Lockhart that changing ways of thinking is the biggest hurdle.
"We need to get people out of their comfort zone," she says. "Change is difficult. It can be painful."
New ways already in the works include ordering large, attractive signs for the vacant storefronts. They'll make the buildings look better and offer potential buyers more information about the spaces and amenities. The Monte Vista Chamber of Commerce and the Main Street offices will soon be in the same building.
"That will create synergy for change," Hagedorn says.
Marcia Darnell lives and writes in the San Luis Valley.