Brief by Central Staff
Local History – August 2008 – Colorado Central Magazine
Among the many Independence Day festivities in Central Colorado was an open house at the old Maysville School, which operated from 1881 until it closed in 1939. Organizers said they had feared no one would come, so were pleasantly surprised to receive a steady stream of visitors on July 4.
Maysville, which sits seven miles west of Poncha Springs beside U.S. 50 and the South Arkansas River, may have begun life in 1879 or '80 as the mining settlement of "Crazy Camp," which perhaps became the more respectable "Marysville" that got misprinted as Maysville. Or so goes one story.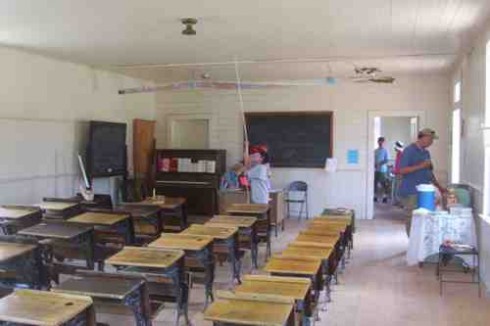 By 1885 it was definitely Maysville, according to Crofutt's Grip-Sack Guide to Colorado, which said it was "a small mining town of 150 population, with two smelting works and a number of stores."
After the schoolhouse closed in 1939, the building was used as a bus barn, with the wall on the east side cut out for the vehicles. In 1978, Maysville residents raised money and got a grant from the state historical society to replace that wall, as well as the floor, joists, and windows.
About a year ago, the South Arkansas Landowner's Association held its annual picnic meeting and voted to volunteer to scrape, repaint, and repair the local landmark, which is owned by the Salida Museum Association. Eighteen residents and friends went to work on the school, and also garnered donations or discounts from Monarch, Wal-Mart, Hylton Lumber, Poncha Lumber, Heide's Glass, and Mountain Valley Lumber in Saguache.
Second-graders from Longfellow Elementary in Salida took their history field trip to the building, where they got to see an old schoolroom, complete with desks. They asked a lot of questions; the main one was "Can we ring the bell?"
Indeed they could pull the rope and hear the clanging. The bell sits in the original belfry, but it first rang in a nearby building that no longer stands. As its raised inscription says, "To the Maysville Union Sunday School in Memory of Charles H. Watson of Brooklyn, N.Y., who died in Maysville Colorado Dec. 11, 1880.
Next on the reconstruction agenda is roof repair ($9,000) and chimney repair ($3,000). Contributions should go to the Salida Museum Association, 406 1/2 W. Rainbow Blvd.; just write "Maysville School" somewhere on the check made out to the association, and the money will go to the right place.