SEVEN MILES ABOVE MAYSVILLE lies a ghost town that is barely remembered but is worthy of mention. It was called Shavano, taking its name from the 14,231-foot mountain towering above it. Mount Shavano is home to the much heralded "Angel of Shavano," the figure of an angel with outspread wings, which is visible with the right amount of snow during spring. According to legend, two young Ute men once fought to the death over a young woman called Corntassel. But when the mortally wounded loser killed Corntassel, a drought spread over the land. The tribe left their land and made their way to Arkansas Valley, where they saw the giant snow angel on the mountain. Believing it was a sign from Corntassel's spirit, they planted and successfully harvested corn. Or at least, that is one story.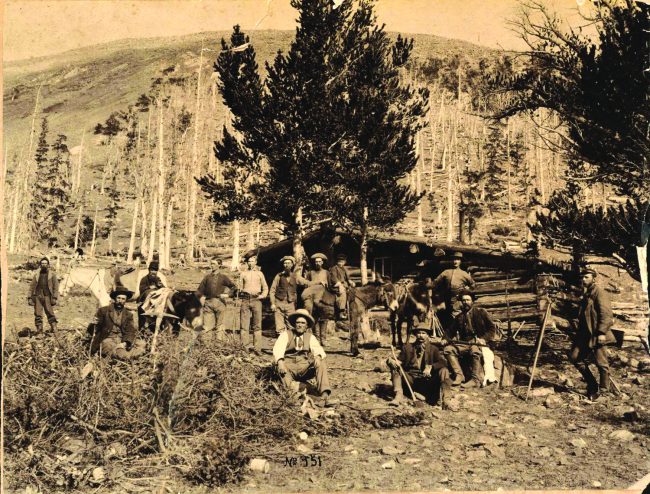 A second version of this tale says that Corntassel was a princess, and prayed for rain because her people at the base of the mountain had no water. Her god answered that her prayer would be granted only if she allowed herself to be transformed into a snow angel, which she did. The frozen princess's tears each spring bring water to the valley below. There is a third tale, too: An Uncompahgre Ute named Che-Wa-No was very fond of Lieutenant George Beckwith, a well-known scout who recorded Captain John W. Gunnison's exploration of the Western Slope in search of good railroad routes. When Beckwith was injured in an accident, Che-Wa-No prayed for him at the foot of today's Mt. Shavano. His prayers were answered by the appearance of the snow angel, signifying that his friend would recover.
When Anglo settlers reached the Arkansas Valley, they heard the story, or stories, of the Angel of Shavano (Shavano, according to one source, is actually Spanish in origin although it was also the name of Ute leader Ouray's war commander). In 1879, shortly after a gold mining camp called Clifton, or Clifton Camp, was established on Mt. Shavano, the first residents, decided to rename it Shavano. Like all high-altitude camps, Shavano was no place for the weak. Sources claim the town sat at roughly 11,000 feet in elevation, and the trail there was among the roughest and rockiest in Colorado. But when the founders had to offer free lots to anyone willing to grade their property, miners came by the dozen. As of August of 1880, there were more than 100 people living in Shavano. There does not appear to have ever been a post office there, however, and the community was often referred to as "Camp Shavano."
Shavano tried to keep up with other towns in the county. The wicked trail to the camp was eventually improved so wagons could traverse it — although anyone using the road had to pay a toll. Because Shavano sat in a grove of old-growth evergreens, residents were more sheltered from the wind and other weather calamities. Nearby Cyclone Creek provided plenty of water. Wagons brought ample supplies for the handful of general stores. There were three gold mills, and a sawmill provided plenty of building materials. Shavano was also fairly lawless; there was only one saloon, run by a fellow named Charley Wilson. The "Salida Mountain Mail" told of a drunk who once tried to come up the rocky trail in Shavano's early days, found it too "damn rough and rocky" and decided to take an easier trail that sloped downhill. He wound up back where he started in Maysville. A few historians have reported there was only one murder in the camp, and the guilty party was immediately hanged. Evidence of this event, however, is lacking.
In fact, the residents of Shavano appear to have got along with one another quite swimmingly. Shortly after the camp was founded, the Miners and Prospectors Union was formed right there in town, headed by George Nichols with around 100 members. The union would be short lived; as with so many gold camps around Colorado, Shavano's mines slowly but surely began playing out in about 1882. One of the last news items was published in 1883 and described a man named Fiend who worked so long and so hard at his digs around Shavano that he contracted something like a brain fever and died believing the plain rock he had mined really was gold. It wasn't. Shavano was abandoned soon after.
Over the years, mining men occasionally decided to give Shavano another try. During 1887, various prospectors were reported to have tried their luck at the old camp, but nothing came of it. A second boom, this one involving silver, occurred in 1904. It too was short-lived and ended in 1907. After that, Shavano was left to the elements and virtually forgotten.
When the ghost town of Shavano was first re-discovered, the road to the camp remained precarious and some buildings were still standing. Today, Shavano is fairly accessible along County Road 250. A sign marks the site. Unfortunately, there are now few remains, except for some cabin ruins off in the trees. Beautiful Mt. Shavano, meanwhile, is an epic hiking area with several challenging high-altitude trails.
Sources used: Carson & Boyd's Atlas of Colorado Ghost Towns, Robert Brown's Colorado Ghost Towns, Perry Eberhardt's Guide to the Colorado Ghost Towns and Mining Camps, GhostTowns.com and CollegiatePeaksByway.com. ?
Jan MacKell Collins loves rambling around the mountaintops everywhere she goes. You can find her at JanMacKellCollins.com.