By Vince Matthews
One hundred and twenty-five years ago, Leadville was Colorado's second most populous city and was being touted to become the State's Capital. Indeed, the ridge on the north end of town is called Capitol Hill, and one of the old scenery flies in the Tabor Opera House depicts Colorado's future Capitol as residing there. Great wealth was being accumulated by folks such as Guggenheim, Tabor, Routt, Chaffee and others. And they had a light rail bringing folks to and from the terminal to downtown. Denver finally caught up this April with the opening of its light rail from DIA to downtown!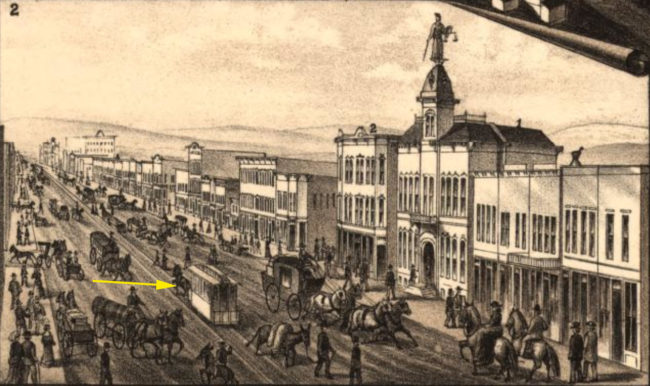 The Denver & Rio Grande Railroad terminal was built in 1880 north of town. It was quite some distance from the core of downtown (Harrison and Chestnut Streets). So a light rail was built to efficiently transport passengers from the depot to the main business district with stops along the way. It consisted of dual rails down the middle of the streets and a horse-drawn trolley. The route is clearly shown in the 3D map, Birds Eye View of Leadville, Colo. 1882. From the depot, the trolley traveled down Poplar Street to 8th Street, where it cut over one block to Harrison Street and then on south to Chestnut Street.
It is not known how long this light rail operated.
Vince Matthews is the retired State Geologist of Colorado who thrives on helping people understand, and enjoy, the history and geology of Leadville and the Upper Arkansas Valley.