By Tyler Grimes
"A funky jam band" is how the Leadville Cherokee were described at a recent show at the State Highway Theater in Buena Vista. The band of five from – of course – Leadville, can certainly be described as funky and jamming, with a dose of bluegrass, reggae and rock. They describe themselves as a "Country-Fry Jam Rock Reggae Bluegrass Band." Whatever the genre, they know how to make people stand up and move.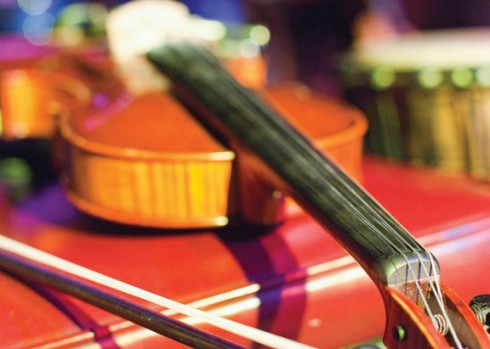 A Cherokee show is an experiment in crowd energy, the music feeding the audience and the dancing feeding the band. Most shows begin with a few people standing around nodding their heads only to end with masses packed in front of the stage grooving to the vibrations. "The more you guys dance, the better we get," Peter Albrecht (vocals, mandolin, guitar, violin) joked at a recent gig at the Lariat in Buena Vista.
The Cherokee have had a recent surge in the high country and beyond. When they're not packing venues in the Ark Valley like the Vic, State Highway, The Lariat, and The Scarlett Tavern in Leadville, they're playing shows along the Front Range and throughout Colorado.  "We've only been together since February, but we've been doing extremely well, playing gigs every weekend," said Mark Niernberger (guitar, vocals). "We are just about to play our eighth weekend in a row."
The full five-man band may not have formed until February, but most of them played together before then. Albrecht, Niernberger, and Vilous Fox (drums) began playing in 2009 when they met in the dorms at Colorado Mountain College. Michael Seibel (keys, auxiliary percussion) met Albrecht and Niernberger while working at Ski Cooper last winter. Seibel, 19, who's the band's only Leadville native, added a new sound to Leadville Cherokee. "Michael is a phenomenal keyboard player, but without a bassist there would be no Leadville Cherokee," the Niernberger said. Brian Carter (bass, vocals) moved from Denver to Leadville to be a Cherokee full time. "Brian and I grew up together in Wichita and played in a few bands together so we were stoked when he joined us," says Niernberger.
When Albrecht, Fox, and Niernberger were first playing together they had a different sound. "We were just an acoustic band that played a lot of random parties and the dorms until we met a few local musicians in Leadville at Doc Hollidays where Open Mic night took place," recalls Albrecht. At that time they still hadn't named themselves.
"The name came one night when were playing at a bar after hours," recalls Niernberger while he walks to a jam session at Cottonwood Lake, guitar attached to his back. Niernberger tells the story of police coming and accusing them of not being real band. "'If you are a band, then what's your name?' the cop asked us. We had a song with the same name we had written, so we said, 'uh, the Leadville Cherokee.' They bought it and didn't bust us for playing too late."
The Cherokee have come along way since making up a name, they've added instruments, written more original music, and upgraded equipment. The next step is an album. "We are in the process of recording our first studio album entitled Brand New Sound," said Neirnberger. "We hope to finish it some time this fall."
Tyler Grimes is currently struggling to begin a career in journalism at a time when experienced journalists are struggling to being a career in journalism. More of Beth Johnston's work can be found at her website:
www.yellowfeatherphotography.com