By Nathan Ward
Whistle shrieked, rubber squeaked, eyes flared, arms pistoned and two "jammers" sprinted each other toward an imposing wall of women decked out in pads, helmets and grim looks. A shuck, a jive, a dip to the left, and a fast woman jammer named "Pain in the Bass" burst through the wall, skates smoking as she circled the track. She burned through the group of women again, narrowly avoiding loose elbows, blinding lipstick and debilitating hip checks. She was off again, scoring points at will. It was a run-away.
The Ark Valley High Rollers (AVHR) is the Upper Arkansas Valley flat-track women's roller derby team, and they are a force to be reckoned with. Drawing on a derby tradition in America that dates back to the late 1800s, women's derby has been born, died and reborn through the decades in one form or another – six-day endurance races, 24-hour skate-offs, glam rock and big hair, and finally to its punk-tinged, pseudonym-strewn version today.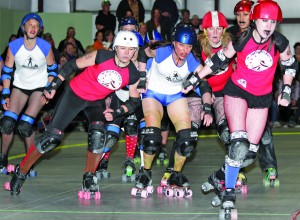 As a child of the 1980s, I admittedly didn't think roller derby was very serious. Visions of the full contact roller derby movies from the 1970s first came to mind with all their drama and into-the-seats body checks, but AVHR member Natty Dread Lock quickly set me straight.
"We're not just a bunch of women skating around drinking PBR. Roller derby is much more than cute girls in fishnets and hot pants. This is a team sport with strategy, skills and intense cardio. We're serious," she told me.
After I experienced the recent bout at the Chaffee County fairgrounds where the AVHR women completely dominated the visiting High Desert Derby team from Farmington, New Mexico, there will be no doubt left in anyone's mind. Roller derby women kick ass.
The bout started out even, zero to zero, for about fifteen seconds. Then the first AVHR jammer sent her skates into mach speed and scored a "Grand Slam," passing every member of the opposing team at once. She sliced through the High Desert Team like a hot knife through warm butter and after that, the bout rout was on.
Okay, to be fair it wasn't totally even. Farmington showed up with too few skaters and they needed to borrow some of AVHR team members to fill out the team.
No one seemed to mind; they all skated to a full house of fans. Every seat in the fairgrounds arena was sold out and the ticket takers had to turn away dozens at the door.
Everyone was out to experience the resurgence of roller derby in America and to check out the Rollers. The crowd screamed, gawked and drank as much beer as they could while the roller derby women expanded our minds by introducing us to a fun and wild new sport that is one of the fastest growing in America.
The AVHR delivered a lopsided victory and put on a great show. I even overheard the mayor of Salida saying "This is awesome!"
Modern day roller derby isn't like the old Hollywood movies where the skater-actors seemed hell bent on damaging the competition. In fact, most serious contact is banned in roller derby today, but that doesn't mean that it doesn't happen. Roller derby bouts include a penalty box, just like hockey.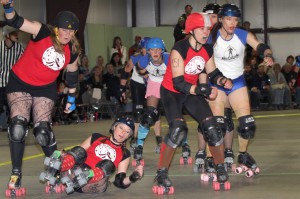 Things go down in the heat of competition –like when an unnamed High Roller, skating for the visiting High Desert Derby team, dropped Pogue Mo' Honeyguns with a ringing elbow to the side of the head. A quick whistle from the referee sent her to the penalty box to wait out her transgression for aggression.
The bout ended with a ridiculous score that was something like 276 to 26, but everyone seemed to have a great time. The skaters, tired and happy, nursed arms reddened from bumping, fishnet burns from wiping out, and legs shaking from skating for a solid hour around a tight track. The crowd left satiated by the artistry and the action.
The AVHR team welcomes all warm-blooded female recruits, but a girl can't just show up, pick a funky nickname and compete. There are hoops to skate through and skills to learn. Initiation into this world starts for most with Fresh Meat Mondays, where women get their first taste of what it takes to enter the world of roller derby.
If they are still interested at the end of the night, newbies start a 12-step program which teaches them the skills they need to compete in roller derby. It's a serious commitment that includes two nights of practice a week. The reward is significant – fitness, wheel skills and entry into a wild and empowering tribe.
The AVHR aren't just about skating. They also use their celebrity to promote social work in the community. This year they sponsored a booth at the Chocolate Lover's Fantasy to support the Alliance Against Domestic Abuse, adopted a family at Christmas, sponsored a community skate and much more. Natty summed it up, "We have a great group of women dedicated to the sport, the team, to fitness and to the community."
Their skates are already taking them far beyond the community, with bouts scheduled against teams from Colorado Springs, Grand Junction, Aurora and Greeley. They were also just selected as one of the 12 new Apprentice Member Leagues for the Women's Flat Track Derby Association (WFTDA), the international standard setting governing body for women's flat track skating.
Want to watch a bout? The High Roller's next home bout isn't until August 13, but you can see a scrimmage before then. Or, jump in your oil burner and steer down the miles to an out of town gig. See their whole schedule at www.ArkValleyHighRollers.com.
Also, there are teams in Cañon City, The Phantom Canyon Rollers, www.phantomcanyonrollers.org, and Pagosa Springs, www.rollergirlsinpagosa.com and a league is now forming in Gunnison/Crested Butte.
Want to become a roller derby athlete? E-mail ArkValleyHighRollers@gmail.com to ask about the next Fresh Meat Monday. Until then, practice your crossovers and get ready to cross over.
Nathan Ward has never skated in a bout, but he does appreciate pseudonyms and hip checks. He also embraces two-wheeled sports and is organizing another fun local event – the Monarch Crest Crank, a fundraiser for the Alliance Against Domestic Abuse – Read all about it at
www.MonarchCrestCrank.com
.