FREIGHT, the fully restored 1884 Leadville depot, is host to a variety of public gatherings. In fall and close to the holidays, you can spend a Sunday afternoon at their community market to enjoy both the historic space and shopping.
Party Priestess Elsa Tharpe said, "FREIGHT has always been the "yes" place — meaning that it's supposed to be a reflection of our community, not an agenda holder."
She explained that public markets are the perfect reflection of who is in the community — both creating and purchasing. It is also a forum to interact with people with goods to offer who do not have storefronts.
Tharpe added, "(Historically) FREIGHT is a space where goods came through — not passengers — so the fact that we have goods coming in and out of FREIGHT again could not be more full circle." The market hosts between 11 and 15 vendors, and each week's offerings are different.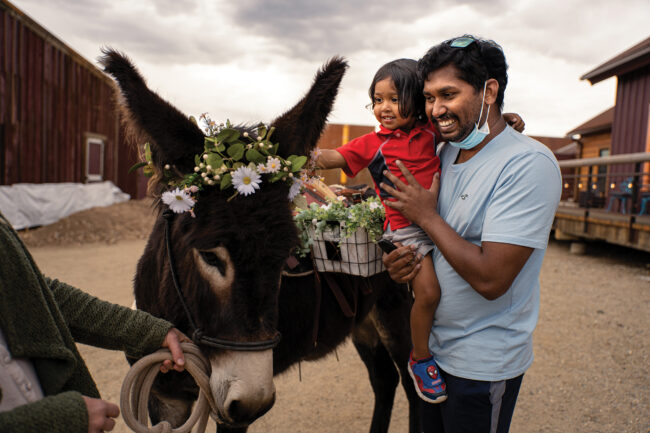 FREIGHT's first holiday market was in December 2019 and hosted 30 vendors. The space was filled with beautiful, huge fake trees, spruce garland and twinkling lights. The number of locals who attended to sip, shop and socialize showed the market was an idea ready to grow. Plans for a community market in April of 2020 had to wait a year and a half as gatherings were limited during the pandemic. Local artists asked Tharpe about it on a monthly basis and convinced her that, if she created the space, people would be there to fill it.
"We knew when the kernel was ready, it was going to pop," she said.
The community market continued every Sunday through October. Heading into the holiday season, the Motherlode Holiday Markets are scheduled for 2-7 p.m. December 5, 12 and 19.
"If people enjoy it, then I would love to do them year round," Tharpe mused. "It's one of those consistent things that FREIGHT as an indoor-outdoor venue can provide, especially with variable weather."
Plans for the market weren't the only ones that had to change when the pandemic came. Tharpe said, "We're a big indoor space that is meant for gathering and people did not want to gather for a really long time. Without weddings, FREIGHT had no one in it." Tharpe recalled what happened next as a "pivot."
Once the on-site cabins in the "S.L.umber Yard" were built, people started booking them, which provided some needed cash flow. At that point, Tharpe said they could have leaned into the hotel business, put FREIGHT on hold, and just stayed afloat for a year and a half.
"But that was never the point," she insisted. "If you really want to care about your neighborhood, you need to keep trying to take care of the people around you. FREIGHT wouldn't be relevant if we hadn't kept trying."
The cabin bookings instead provided the freedom for the team to try other things with the depot space. Staff were encouraged to invent ways to keep the space "activated." Some ideas worked better than others. They opened a restaurant — not to compete with other businesses in town — but because they had to serve food in order to be eligible as a bar. The hotel manager started a Beers for Queers night to welcome LGBTQIA+2s community members and their allies. They tried themed Trivia Nights that still happen. Music concerts were held in the open-air courtyard. The wedding planner hosted an event dubbed "The Yak," in the spirit of events like The Moth. At one point, the space was opened up to the Mt. Massive Youth Pipe Band for bagpipe practice.
"There was no room for loss, so we tried all these different things," explained Tharpe. Some things worked better than others because people just weren't ready to congregate in the amounts needed for these events to carry their own financial weight. "Now we have all of that out of the way and can bring some of those ideas back."
COVID turned out to be a big part of FREIGHT's startup. Tharpe said that, because they kept going forward, FREIGHT gets to come out of the pandemic with some maturity, instead of still being in startup mode.
"FREIGHT has always been billed as a 'yes' place, but now we know we can be an idea incubator too," she continued. "That's a cool thing to have established. We can take risks. If we hadn't kept the pedal down, we would have had to take a few more years to figure that out. I'm glad we lived through this time."
FREIGHT and the S.L.umber Yard are located at 320 E. Ninth St. in beautiful historic Leadville. For information on private and public events, lodging and the historic preservation of the property, please visit freightleadville.com. ?
Mary Jelf practices living joyously in the high Rockies. Some days she adds to the world with small but sincere acts like holding doors, taking people's grocery carts back to the store and teaching preschoolers knock-knock jokes.