This two-story, T-shaped building is situated in the center of Poncha Springs directly across from the town park.? Large cottonwood trees, purportedly planted in 1879, frame the front elevation.? The building is faced with red brick made at the Salida Brickyard and hauled by wagon to the site. The cross gable metal roof has wooden brackets supporting the wide overhanging eaves and a bell tower with a concave roof profile.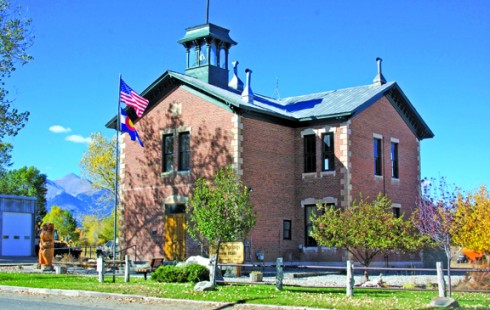 Construction began in 1881 and in January 1883, 67 students were enrolled in the school.? The average attendance was 42.? The largest attendance was 100 pupils in 1937–1939, during the construction of Highway 285 that goes through town.? The building was used to educate students in grades one through eight until 1957.? As the number of school children dwindled in Poncha Springs, the district was consolidated with Salida.? Originally there were two classrooms on the first floor and a large auditorium with a stage on the second floor.? Other original interior features include a bead board ceiling in the foyer, a stamped metal ceiling in the classrooms, original slate blackboards, and four-foot high wainscoting encircling each room.
In 1962, the schoolhouse and its land were deeded to the town to be used for community purposes and town government.?One of the classrooms became a museum depicting school life in the early 1900s, the other classroom become the town hall.? Through the years there have been some alterations to the building.? A front porch added in 1915 was removed in 1980.? A back porch was added in 1921 and is still in use.? Indoor plumbing and a kitchen were installed between 1922 and 1949.? The state required the construction of a fire escape on the rear of the building in 1942.? A concrete vault was added in 1976 for the safe keeping of important town papers.
The schoolhouse is a good example of the Italianate style.?Characteristics of this style include a symmetrical composition; tall, narrow windows with decorative stone lintels; brackets supporting the widely overhanging roof eaves; stone quoins accenting the corners; and a bell tower.? Poncha Springs Schoolhouse, the most prominent building in the community and the only two-story schoolhouse remaining in Chaffee County, is listed in the National Register of Historic Places and was the recipient of a State Historical Fund grant for an historic structure assessment.
Description courtesy of History Colorado, Office of Architecture and Historic Preservation.