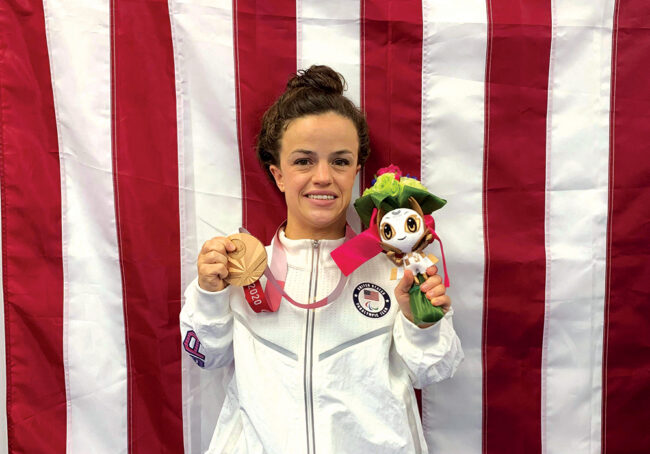 SOPHIA HERZOG, SALIDA, WON A BRONZE medal in the 100-meter breaststroke at the 2020 Paralympic Games in Tokyo and then retired.

Tokyo was Herzog's second trip to the Paralympic Games. In 2016, she won a silver medal in the 100-meter breaststroke in Rio de Janeiro. She was also a finalist in the 200 Individual Medley both times.

"I honestly didn't have a plan after Rio in 2016, that's why I decided to swim for another four years," Herzog said.

However, as we all know, that 4-year commitment got extended when COVID-19 postponed the 2020 summer games until 2021. Which meant an anticipated 6 or 7 months of tough Paralympic training, turned into a year and a half. While some might have taken some time off, Herzog did not stop.

"It was hard when everything was shut down, obviously. But it was helpful too — I had more time to get prepared," she said.

While the Salida Hot Springs Aquatic Center was closed, Herzog trained in the Arkansas River and rode her mountain bike to stay active.

Herzog grew up in Fairplay, Colorado, and was a competitive skier for years until realizing that continuing to compete at that elevated level would require many knee surgeries. She decided to switch her focus to swimming in 2009.

Herzog learned to swim at age 3. Her mom wanted her to feel comfortable in water, which worked.
Herzog said that she is "now fully grown" at 4 feet tall.

In 2012, she tried out for the Paralympics and was a third alternate, so she did not go. She was put on the Paralympic track, though, and was told, if she graduated high school a year early, she could move to the Olympic & Paraympic Training Center in Colorado Springs. She did just that in 2014. Graduating a year early from South Park High School was stressful, Herzog confessed.

After training at the OPTC for 5.5 years, Herzog was itching for a change.
"I needed a change of training from the OPTC for many reasons, but it pretty much boiled down to I outgrew their program and needed to be challenged more," Herzog said.

Her parents had retired to Salida, and she had heard great things about Salida Cyclone Swim Coach Wendy Gorie. So Herzog came to see if she liked Gorie's coaching style. She did.

"Wendy's training was completely different to what I was used to in many ways. It was more straight power-based, 1:1 ratio, training partners, and incredibly harder. I was always exhausted after practices. Lastly, it was way more fun and made me love swimming again. I looked forward to going to swim under her every morning even though I knew I was going to get the crap kicked out of me."

A typical training day for Herzog started with 2.5 hours of swimming in the morning, home to recover and then return to the pool for another two-hour session at night. She would also do a 1.5-hour weight workout every other day, which means 4.5-6 hours of training per day.

"Giving 110% every single day — even when you don't always feel like it," Herzog said, "that's the hardest part."

She also confessed that training for the Paralympics is "fairly lonely." In previous years she had training partners, but this time, "No one else was training. It was a solitude thing. Just me staring at the black line while (Gorie) yelled at me to go faster."

Jennifer Davisson, aquatics supervisor at the Salida pool, said Herzog "did her training at our facility. She was in here twice a day swimming. We got to know her very well. She's an amazing swimmer and a very kind lady."

Davisson said having Herzog practice with the swim team was inspiring and motivating for the high schoolers.
"She is something to watch. She is fast. She was keeping up with our girls who have more length. She showed the girls you work hard and you will go places. Sophia's an inspiration. Just her going and medaling in the Paralympics is huge to show our kids — you can do anything.

Davisson went on to say that Herzog is "so smooth and natural in the water" with a "fantastic breaststroke."
Herzog described herself as a stroke specialist.

"She is the most down to earth and humble person I've ever dealt with," Davisson added. "She didn't let that medal get in her head."

Davisson believes Herzog deserves a parade.
"She needs to sit on a convertible and have her medal on," she said. "She is just a delight. She just is."

Herzog said people often ask her to compare her two Paralympic games.
"It's impossible to compare. Rio had mediocre facilities, but great fans. Tokyo was less welcoming, but had the best facilities. Also, there weren't any fans allowed. So my family couldn't attend either."
She said the rules were strict in Toyko. They were on a "massive lockdown" while they were there competing, and athletes had to leave the country within 48 hours of finishing competing. Herzog said her teammates were leaving every day.

"It was lonely," she said. "I'll go back with my family someday and show them the facilities."
Herzog said she retired after Toyko and will take the rest of the year off to relax.
"The last half of my life was very intense. It was entirely planned out for me. I'm taking a couple months to do 24-year-old things — like visit family."

Herzog will need to start wedding planning, as she got engaged to Nick Gibb at the end of September.'My friend said, "Well, you're collecting a lot of metal this year." I guess I am,' Herzog said with a laugh.

Herzog said she is excited to play her "risk card" a bit, instead of her "conservative card" when it comes to recreating. She plans to compete with the Master Race Team on Fridays at Monarch.

"I grew up a disabled kid in Fairplay without a pool. Nothing is impossible if you put your mind to it," Herzog said.
Just hearing about Sophia's training made Cailey tired. Hot tub laps are more her style.