Article by Columbine Quillen
Local lore – January 2004 – Colorado Central Magazine
ASK ABOUT GHOSTS In Salida and you'll hear plenty of stories. Some say the old bookstore used to be haunted, the Lovelace, the First Street Café, the Odd Fellows Hall, or perhaps even most of the buildings on First Street, and many of the upstairs apartments overlooking F Street. But Amícas, over on Second Street, seems to house the most spooks.
Most customers who come and eat at Amícas probably can't imagine ghosts lurking in the shadows. It's such a cheery place with brilliant yellow and orange walls. The fireplace is tiled in deep fuscia and turquoise tiles, which are decorated with vegetables, and one tile even has a smiling sun on it. The lighting is soft, modern, and pleasant.
Amícas certainly doesn't look like a place replete with creepy spirits. But then again, the building used to house a mortuary. A furniture store resided in the building in 1890 but for most of the 20th century, Stewart Mortuary occupied the building. In 1994, after a complete makeover, it became Il Vicino's.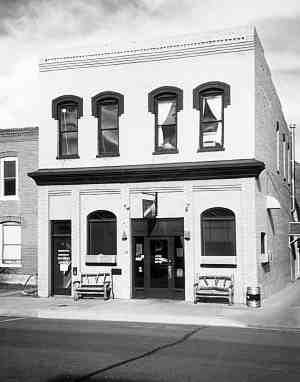 Recently the business changed management and its name to Amícas, but the restaurant maintained its menu, atmosphere and popular beers. Today, many diners probably don't know the building's history, but all of the employees do, and some swear that there are supernatural beings lingering there.
Shannon Watt, a kitchen manager who started work there last summer, says that there is no doubt she's seen a ghost. "Oh yeah, I've seen them." Several times, late at night, she's seen a man dressed all in black who she thinks must have worked at the mortuary. He didn't move, he was just there. As she told me this, she shook as if she had the heebie jeebies. "Another time, a couple of months ago, I went to the kitchen for some cheese and this big whoosh of cold air came down from the boiler. It was so creepy that I just grabbed the cheese and ran out."
SHANNON IS NOT THE ONLY person with ghost stories about Amícas. James Brown claims that one night a couple of years ago, when he was sitting at the bar with Kim Stanfield, they both freaked out simultaneously and got the chills. "I felt really weird and I didn't know what to do," he said.
At about the same time, Kim thought that she saw a shadow that shouldn't have been in a mirror in the front dining area. "For some reason I decided to stand up," James said. "And I know this sounds crazy, but I knew that whatever it was wanted to leave — and needed to leave — so I said … You can leave. It's time for you to go." And, James continued, he waved his hands in the direction of the front door and suddenly the front door blew all the way open and then just slammed shut. It was not a windy night.
Ellen Olsen, who is a part-time manager at Amícas, has never seen any ghosts at Amícas, but she does get nervous being there at night and says her hair sometimes stands up, "But I can't say that it's supernatural." "It's just creepy at night and I always leave all the lights on when I'm alone there."
Ellen does have a creepy story, though. Some time back she was living at the Plum Tree Inn on East Sackett Avenue, which was turned into a bed and breakfast in the late 90s. When she was living there, a lot of work was being done on the building, so there weren't many people around. "They still had the old push button light switches there.
"One night I went to turn on the light and it didn't work, so I figured I would check it out in the morning." But Ellen couldn't get it to work, so she used another light in the room. A couple of weeks later she woke up, thinking that one of the four dogs that lived there had roused her.
BUT SHE COULDN'T find the dogs anywhere. She did, however, find the broken light on. Ellen pushed the buttons, but couldn't turn it off. The room was very cold and she was scared, so she ran back to her bed and pulled the covers up over her head. "It was so quiet, an old house is never that quiet." The next morning the light was off and she never could get it to turn on again.
The Jackson Hotel in Poncha Springs is legendary for its ghosts. Everyone I talked to said that they knew of someone who'd had a supernatural experience there. The hotel was established in 1878 and was originally named the Poncha Springs Hotel but there were other businesses with similar names so the owners changed the name to the Jackson Hotel.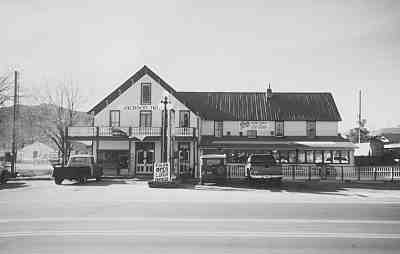 Over the years, two major fires swept through Poncha Springs, one in 1893 and another in 1903, but the hotel survived. It is the only building that remains from the town's founding in 1880.
The Jackson is a quaint historic hotel with much of its original woodwork, and it's furnished in period decor. Famous guests are reputed to be Jesse James, Billy the Kid, and Ulysses S. Grant.
For those who dine in the hotel's steak house or stop by the bar for a drink, it's not hard to imagine what the place must have looked like in the 19th century. And some claim it's been haunted since then, too.
Chad Hickson isn't sure who the culprit was back when he dated a girl who had a room on the third floor. "One night I was brushing my teeth and I was sure that someone was standing behind me. I turned around and no one was there." His girlfriend set the alarm, but they both woke up late the next day because the clock wasn't working; it had been unplugged. Chad thinks maybe a ghost did it.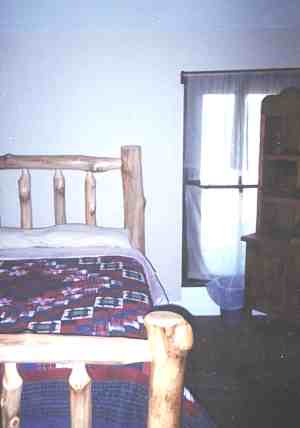 JAMES BROWN, who seems to have a way with ghosts, stayed at the Jackson in 1984. He had just re- turned from a two-week vacation on the East Coast and was waiting for his brother to return so that they could rent a house together. "I was staying in the Susan B. Anthony Room, which is near the stairwell," James says. "Apparently, in the late 19th century some guy was shot on those stairs. I've also heard that a fire killed someone, too."
One night after work, James went upstairs to go to bed. "It was around ten and I was really tired, so I fell right to sleep." At 2 a.m., he woke up and the door was open. When he got up to close it, the stairwell door slammed shut. "It was weird, but I didn't think it was any biggy. I figured it was the wind or something, so I just went back to bed." He locked the door and went back to sleep. At around 4 a.m., James woke up and found his door open a second time. Once again, he shut the door, and once again the stairwell door slammed shut, too. He pushed his bed against the door and locked it again. "I was really freaked out and moved out three days later."
And that's the way most ghost stories go; it could merely be faulty wiring, or strange air currents, or peculiar shadows. But maybe someone who once lived here is trying to tell you something.
Columbine Quillen, who tends bar at Benson's in downtown Salida, once thought there was a ghost there but figured out it was really the ice machine making weird noises.