Article by Jennifer Dempsey
Local Groups – November 2007 – Colorado Central Magazine
TO KATHIE YOUNGHANS, Friendship Bridge is more than a small business loan program for Guatemalan women.
"It's our own little private revolution," said the owner of Amicas Restaurant and founder of Salida's chapter of the international microcredit program. "It's women helping women."
Headquartered in Evergreen, Colorado, Friendship Bridge is a non-profit, non-governmental organization that provides microcredit and educational programs to Guatemalan women who want to create their own solutions to poverty. Believing that "women are effective entrepreneurs, leaders and agents of change for themselves, their families and communities," Friendship Bridge began working with women in Vietnam in 1994 before establishing a program for Mayan women in rural Guatemala in 1998.
"With women, the money they make from their businesses goes back into the family," Younghans explained. "With men it doesn't always make it to the family. There is a fairly high rate of alcoholism among men in Guatemala. Lending to men has not been proven successful in other programs. With women we have a 99% payback rate."
Friendship Bridge is modeled on the microcredit principles of the Grameen Bank, founded by 2006 Nobel Prize Winner Mohammed Yunus, who wrote Banker to the Poor. The microcredit system is the extension of small loans to those individuals not considered "bankable" by traditional banking measures. Originally established in Bangladesh, microcredits are geared towards individuals who lack collateral, steady employment and verifiable credit history. In the mid-70's the microcredit system was largely dismissed as unsustainable, but due to its success in developing countries such as India, Vietnam and Guatemala, the United Nations declared 2005 the International Year of Microcredit.
Guatemalan women, according to a study by the World Bank, have the lowest economic activity rate in Latin America.
"That's why we're there," Younghans explained. "We go to the poorest of the poor. Basically these women can't do anything with the bank. They have no collateral and also they don't have any banking skills. The illiteracy rate in the Mayan population is between 65 and 70%. They could no more go to a bank and do all that red tape than fly to the moon. We are a bank to them."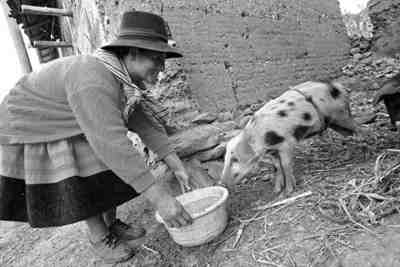 The average loan from Friendship Bridge is $155 for a six-month cycle. If they are borrowers in good standing they are able to apply for larger loans.
"We are even looking at different kinds of loans, such as housing and tuition loans, as the borrowers' needs dictate," she said.
YOUNGHANS STARTED THE Salida chapter, or Circle, of Friendship Bridge in the fall of 2001. She had just come back from visiting the Denver Circle where they were having their fundraising auction.
"They had leftover goods (to sell) and I said I can sell some of these for you," she said, "you know, to help the Denver circle. I was working at Bongo Billy's and telling people about Friendship Bridge. In the first week we got $350. Eventually we raised $1,600 and a Circle was born. It was a huge hit. It was right after 9/11 and I think people needed something to feel good about."
Today there are between 25-30 active members in the Salida Circle of Friendship Bridge and more than 70 on the email update loop. Meetings are held the first Wednesday of the month at Bongo Billy's at 6 p.m. and open to anyone interested in joining.
"This county has just embraced Friendship Bridge," she said. "Last year we raised $26,000 through three events. I'll get random checks from people because they can see that so little goes so far. Families in Guatemala live on $1 a day. That can easily be increased to $2 a day."
According to the Friendship Bridge website, $25 provides school supplies for two children; $100 provides an educational scholarship for a child; $150 provides a loan for a new client; $500 helps supply the Business Learning Centers; $1,000 provides credit and education for five new clients; $5,000 provides credit and education for a loan group of 30 women.
The first Friendship Bridge program was started in the Lake Atitlan area in Western Guatemala in 1998. Today there are five branch offices in rural Guatemala serving almost 14,000 women.
"That area (Lake Atitlan) was hit so hard during the Civil War in the 80's," Younghans said. "It had killed lots of the men and there were a lot of fatherless children. They wanted to reach out to the women."
TO QUALIFY FOR A LOAN, a woman must be doing something considered economically viable for which she needs capital. For example, one woman was selling shoes.
"She would go to Guatemala City buy the shoes and come back to sell them to people in her village. Her loan helped her with transportation so she could buy more shoes to make it more worth her while."
Another woman, an embroiderer, bought a sewing machine with her loan.
"Now she sews and embroiders, so she makes a bigger profit," Younghans said.
One example that particularly inspires her is a woman who was able to grow her weaving business through her loan, and recently attended a trade show in Italy.
"When I first met Candelaria she was in her early 20's, a single mother of two boys, living in a lean-to outside of her father's house," Younghans said. The small loan she received allowed her to buy more yarn and weave bigger and better things. She started selling her stoles in markets, and with that money, bought her own loom, which she could also rent out. Last year she was chosen to go to a Weavers Show in Italy.
"She's made a huge amount of progress," Younghans said. "It's incredibly inspiring to see how empowered these women become … to leave their village is huge, to go to Italy is huge!
"Their worlds are very narrow. But they are such amazing young women, so confident, and they are not afraid anymore."
One of the most effective confidence-building aspects of the program is the loan circles. During an eight-week training course, where the women develop a business plan, they form into groups of five as a means of social collateral.
"The loan circles form a huge support system," Younghans said. "They hold each other accountable. If you don't show up for a meeting they'll go looking for you, because they'll think something bad might have happened to you. They support one another to make sure everyone is paying her loan payment. It's a way to watch out for each other."
Younghans said the women are very creative with their loans. "They usually do more than one thing with their loan. They might be growing tomatoes and weaving. We don't dictate what they do with their loan, but we do insist they have a business plan."
Friendship Bridge conducts Insight Tours: on-going, regularly scheduled trips to Guatemala where lenders from the United States can meet some of the borrowers and see their projects.
"There are at least 20 people from Salida who have been on an Insight Tour and that really helps sustain it," she said. "There is a group of Salida women who know the same group of women in Guatemala. These Tours are really about going down to Guatemala and bearing witness."
JANE WHITMER, program director for Salida's Nurturing Parenting went on an Insight Tour four years ago. "It was such an incredible experience seeing first hand what small microcredit loans can do for the people of Guatemala," she said. "Not only did it impact a woman's life, but also her family's and the entire village. I have not been personally involved in an organization that makes such a difference in such an efficient, effective and productive way." Whitmer continued, "One of the most powerful parts of Friendship Bridge is that it's about relationships. It creates a community for these women that are in the loan circles, and it creates a community in the United States, a community of women that are committed to helping women in this other wonderful circle. It's a powerful organization based on what truly matters in anyone's life, and that is developing healthy supportive relationships."
Even Salida's law enforcement supports Friendship Bridge.
"In lieu of traffic fines people can send their money to Friendship Bridge. The Salida court started this deal. What happens is somebody gets a traffic fine and there is a whole list of charities where they can send their money. Last year we got $450. I thought it was so cool."
Donations can be made to Friendship Bridge anytime. Checks made payable to "Friendship Bridge" can be sent to 218 E 3rd St, Salida.
The Salida Circle's annual "Caring Heart, Sharing Art" fundraiser will be held Sunday November 4th at the Storyville Theater, 135 W 1st, Salida from 2-6 p.m. The free event is part auction and part sale with a selection of art and jewelry donated from local artists and community members.
For more information on the Salida Circle call Younghans at 539-0669 or go to the Friendship Bridge website, www.friendshipbridge.org.
Jennifer Dempsey writes from Salida, where she runs a circus, among many other things.