Brief by Central Staff
Transportation – November 2007 – Colorado Central Magazine
A former resident of Gunnison and Salida has gone back to work after years of idleness in Durango, where the former resident starred in a movie.
It's the Denver & Rio Grande Western narrow-gauge steam locomotive No. 315, which has been rebuilt by the Durango Railroad Historical Society. In September, it steamed from Durango to Silverton and back.
The locomotive, a 2-8-0 Consolidation, was manufactured in 1895 by the Baldwin Locomotive Works for the Florence & Cripple Creek Railroad (F&CC), which ran up and down Phantom Canyon between its two namesake cities. There it was No. 3, also named the "Elkton" for one of the mining camps in the Cripple Creek District.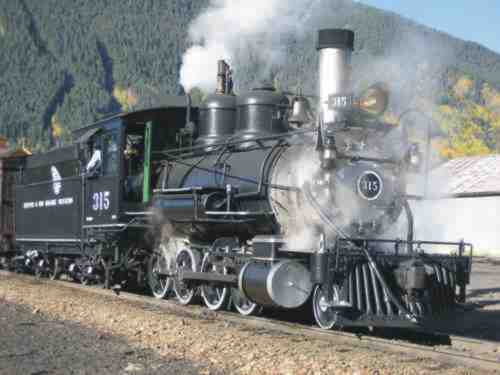 In 1912, a flash flood put the F&CC out of business; by then the area was served by two standard-gauge railroads, and there was no need to rebuild the line. The F&CC put its rolling stock up for sale, but there were no buyers until 1917 when the D&RG acquired the Elkton and four other locomotives and moved them to Salida, the closest narrow-gauge terminal.
But business was slow, so the locomotive did not go into service until the early 1920s, when it became D&RG No. 425. A merger of the D&RG with the Rio Grande Western resulted in the D&RGW, as well as a new system of numbering locomotives, and it became No. 315.
For about a quarter of a century, the locomotive worked on the narrow-gauge lines in and between Salida, Gunnison, Montrose and Ouray. In the late 1940s, it worked as a switcher in Durango, and it was formally retired on Oct. 13, 1949. It was donated to a Durango civic organization in 1950, and put on display there.
No. 315 went back to work, after a fashion, in 1955 when it was in the movie Around the World in 80 Days. It had some mechanical problems, so it wasn't under steam in the movie — a diesel locomotive, disguised as a baggage car, actually moved the train, while smoke and steam generators in the tender made it appear that the steam locomotive was working.
As a motion-picture actor, No. 315 got some "make-up" to make it appear older — a box headlight and a diamond stack. It went back on display, where it deteriorated. In 1999, the Durango Railway Historical Society was formed, and since then, members have donated time and money to restore No. 315 to operating condition. To detail all that was involved, from flues and fireboxes to running gear and cab work, would take pages, but this fall it passed the Federal Railway Administration tests and ran on Durango & Silverton tracks.
Since so much labor was donated, it's hard to say just how much this cost, but one estimate puts the total at $500,000 if the work had been purchased. The locomotive sold for $8,001.30 when it was new 112 years ago.
So, hypothetically, would it have paid to buy a new locomotive then, store it under cover, and sell it now? That is, an investment of $8,001.30 in 1895 that amounts to $500,000 in 2007. That sounds like a good return, but when we ran the numbers, that comes out to a annual appreciation rate of only 3.76%.
At any rate, Colorado has to be a better place with one more operating steam locomotive, and if you want to know more about the restoration organization, check www.drhs315.org or write to DRHS, P.O. Box 654, Durango CO 81302.