By Judith Reese
Love's labor is not lost on fiber artists. The ancient lure of wool craft and quiet handiwork seems to feed their very souls. It's summer, and as September's Salida Fiber Festival approaches, some of the most passionate weavers, ranchers, knitters, dyers, shearers, quilters and spinners from across Central Colorado have invited me and my sidekick, photographer Jerry Wright, into their world. Some of them care for sheep, llamas, alpacas and rare paco-vicuñas. Others work in studios crowded with looms and spinning wheels, their shelves overflowing with yarns and carded wool. They display the fruits of their talents and talk of why they must do what they do. And there is one palpable commonality permeating each barn and workroom: joy.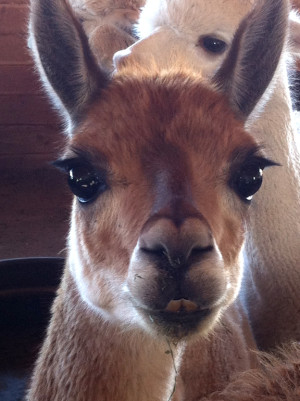 At Wildcraft Fibers in Buena Vista, Jane Steiner and Robin Ziperman ask us to help with the shearing of their sheep and alpacas. Jane is a former family practitioner whose eyes fill with affection as she works with her flock. "I always dreamed of a fiber farm," she says. "As soon as I retired, I found my place in Buena Vista."
"I told her I would be her 'farmhand,'" laughs Robin, a former educator. "I only knew animals from the petting zoo back on Long Island. Now I have my own sheep," she says with affection.
Shearer Tom Barr arrives from Alamosa. He's been doing this for 35 years – and his crew handles 30,000 sheep each year. Barr works deftly, and when finished, he and dog Luna demonstrate herding while Jane and Robin carry fleece to the workroom for skirting. Skirting, Robin explains, is the process of laying out the fleece and "pulling the nasty stuff out." Once that is done, and using plants from Jane's garden, the two will dye the wool, card it, and spin it into yarn, including some that will be available for purchase at the festival. Jane shows off a knitted cap fashioned from her animals' wool. I commend Robin for a lovely "aspen-leaf" shawl she knitted from yarn dyed the colors of aspens on Cottonwood Pass.
We next sojourn to Westcliffe and to "Shearing Day" at Eye Dazzler Alpacas, where folks young and old are gathering at the ranch to assist in the fleecing of 35 alpacas. I follow an alpaca named Mirada, a white-faced brown beauty. She is vacuumed, then sheared by Mike, a New Zealander. Next, with a dental exam and pedicure complete, she is released to the corral. When I ask owners Allie and Phil Neas why they chose alpacas, Phil chides, "You've seen them!" Allie, who dyes and spins wool, promises to bring Mirada yarn to the festival.
In the Cañon City home of Jan Heinen – a cheerful knitter who giggles with delight at being included in Colorado's second-largest fiber festival – her lovingly crafted shawls and scarves are modeled. She shows us a three-dimensional needle-felted piece Guffy artist Diane Del Duca crafted from her alpaca's fleece – the two will share a festival booth festival.
Up Cottonwood Creek, we visit the home of weaver Sandee Jaastad, who lays out the handwoven and knitted garments she will take to the festival. Sitting barefoot at her spinning wheel, Sandee reflects, "It's the process, watching patterns emerge, not the finished product. I don't wear much of what I weave, but I can't not weave."
Our last visit is to Indian Hills Handwovens outside Salida. Llamas and alpacas greet us with the curiosity of their breeds; Kathy Bright greets us at the door. A baby alpaca, Murphy, has just arrived, and she can't wait to show us. "The festival brings a lot of people in," she laughs, "because fiber people are fanatics. Wool festivals are just in my blood." We visit her five-loom studio and are incredulous when she shows us how she shears her animals herself using scissors. Her booths will market spun yarns, woven garments, looms and wheels.
It was crochet artist Becky Longberg who inspired my interest in this world of spinners and weavers. Sitting around the table at the fabric store Fringe where Becky is teaching me to crochet, she mused. "The Arkansas Valley seems to draw people who are creative and openhearted and have an appreciation for beauty both natural and human, a love for things created from the heart." Becky works with vendors and says festival booths are up 60 percent.
"The festival was created from the heart," says Jane Templeton, an organizer who credits Salida Fringe owner Penny Wilken for being its "brainchild." A spinner, weaver and knitter, Jane says that for her, the appeal of working with fiber is "rewarding in our high-tech, high-touch age."
Some event activities will include tapestry weaving on Styrofoam meat trays, rope and pompom projects, and felting in pill bottles – and organizers are expecting a big turnout.
"Last year we drew over 1,000 people and took in over $15,000," says Nancy McAninich, a clothing artist and president of the Heart of the Rockies Fiber Arts Guild who believes that fiber arts "feed the soul."
Jane Levene of Jefferson Farms, whose herd of alpacas and paco-vicuñas charm visitors on Highway 291, attributes the festival's success to "the tremendous artists that live and have galleries and businesses in the area. They've created a wonderful venue with local, higher quality products and sellers who raise animals responsibly, all in one location."
Riverside Park will host the Salida Fiber Festival on September 7 and 8. www.salidafiberfestival.org
Judith Reese is a fledgling fiber artist whose only livestock is a Bichon named Dulcinea.