Article by Bill Hatcher
Veterans – June 2008 – Colorado Central Magazine
YOU PROBABLY KNOW what it's like. You walk outside, early on a beautiful summer morning with thoughts and plans happily pulsing through your head, and then you stop. You hastily scan the horizon, nostrils flaring, and sniff. There's a forest or grass fire somewhere, maybe in the next state, maybe just over the hill.
Fire, but this time in the social sense, is what I smelled last November as gossip circulated about a veteran's group that had recently secured USGS approval to name a heretofore unnamed peak, which was essentially rooted in our "backyard."
Over the 2008 summer solstice, we could now expect to see between 5,000 and 10,000 visitors descending upon the nearby, unincorporated hamlet of Villa Grove. Home to a mere 50 or so souls, Villa Grove is in Saguache County, an area nearly twice the size of the state of Delaware, with a citizenry of just over 6,500 people.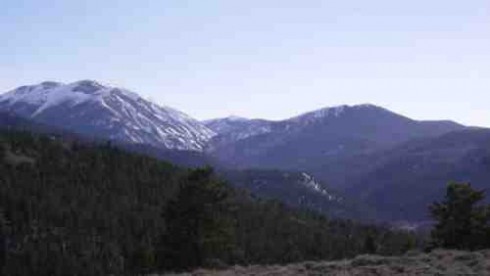 Brooding myself into a parboil of suspicion and fear, salted with a pinch of curiosity, I immediately jumped into the pot, simmering with visions of how my quiet little road would soon be belching up dense clots of dust from the convoys arriving to disgorge battalions of visitors to tramp around the newly-christened peak. And there was more! Vicious, ugly rumors that musician Tim McGraw and even John McCain himself, currently the most politicized vet manning the podium, might be making cameo appearances! (Thank God, both have remained merely rumors.)
I could just imagine all the Pabst Blue Ribbon proletariat and right-wing rhetoric soon to be bubbling out across a county more renowned for clothing-optional hot springs than erstwhile warriors. Here a significant percentage of the inhabitants are of the organic opinion that "Hummer" is a dirty word.
Not being a veteran myself (surprise!), I considered holing up. I thought I'd put up a gate at the end of our lane to stave off all the war-glorifying ballyhoo. But seeing as how I was grumping my way into self-glorifying curmudgeonhood, some friends stepped up to remind me how Saguache was, after all, the third poorest county in the state, and the fourteenth poorest in the nation. With little else besides potato farms, cattle ranches, and extraterrestrials to help put food on the table, such an event could bring critical economic aid. In our high mountain valley, the average income struggled to come up with a gaunt $17,999 per capita in 2005, according to statistics compiled by the San Luis Valley Development Resources Group.
Perhaps I was being too hasty and not considering the good of the whole. As it turned out, the Society of Mount KIA/MIA (pronounced KEE-yuh, MEE-yuh) had organized an open meeting with local residents to give information and gather volunteer help, aimed toward facilitating the dedication ceremonies and events.
Suddenly, an ethical dilemma presented itself, with local economic development squaring off against my pacifistic principles, was I literally selling out? Or were there bigger fish to fry? Confused, yet determined not to allow others to plan my future for me, I reluctantly attended that first local KIA/MIA meeting in Villa Grove in December, 2007, to see what this was really all about.
THE OFFICIAL Mount KIA/MIA Dedication Committee comprises five members, four of whom are military veterans. Bradley Hight, the committee's chairman, and a Ute tribal member, has assisted several other veterans' groups around the southwestern U.S. with organizing their commemoration events. So, in the summer of 2002, Bradley was approached by a fellow veteran to spearhead efforts to locate an unnamed geographic feature — in this case a mountain — which could be dubbed to honor all of those lost in U.S. military conflicts. In that initial conversation, Bradley recalls, "I listened to his reason for naming Mount KIA/MIA, which at that time was for the soldiers that never made it home. Honoring them with this mountain would help the families to have a place to bring their dog tags and pray."
Bradley explained that he liked the idea of having such a sacred place available because his great uncle, whom he'd never met, had died in Italy while serving in World War II. A mountain monument like this one would give him a spiritually-crafted place where memories, prayers, and energies could be focused. Another uncle, who is still living and received a purple heart for his service in Korea, helped Bradley with much of the start-up organizational work regarding veterans' groups, informational parade exhibits, pow-wows, and federal paperwork.
That's where the real hurdles began. Among the myriad problems that Bradley and his supporters encountered, the most formidable proved to be in gaining permission from the Bureau of Land Management and the Forest Service. Each ream of black and white tedium, however, gradually evaporated before the Society's mission-driven perseverance.
SHOTS OF ENCOURAGEMENT came in several forms. One was in recognizing that the name, KIA/MIA, sounded auspiciously similar to the Ute words ki'ya-mi'ya-vat, roughly translating as a "place where people walk about playing (or laughing)." Of course, some, including Bradley, interpreted this as a fortuitous stroke of luck, and a good omen, especially after gaining a provisional endorsement to bequeath that name to a peak located in the Sawatch mountains, the traditional home territory of the Ute Tribe.
Referring to how the Society had outlasted a gauntlet of federal snags, Bradley quips, "I guess they finally ran out of problems and had to name the mountain." Many leads were pursued, most of which led to dead ends. But after five years of pestering the responsible federal agencies, the group prevailed. The Bureau of Geographic Names relented and officially granted the moniker, Mount KIA/MIA, at a conference of the Council of Geographic Names Authorities held in Lexington, Kentucky, on October 7, 2007.
When asked how Mount KIA/MIA will differ from a monument such as the Vietnam Memorial, Bradley patiently answers, "The mountain was made by the Creator, not like the monuments that were made by man or woman, which are real powerful and beautiful at the same time, and all are located in Washington, D.C. I think the song, America The Beautiful, tells the whole story."
There exists only one other mountain in the United States named to denote a similar military purpose. Found in Alaska, Mount POW-MIA (Prisoners Of War-Missing In Action) calls attention to those U.S. soldiers who have been captured or otherwise gone unaccounted for, though not verifiably killed in the line of duty.
Geographically, Mount KIA/MIA is located in the southern Sawatch Range and tops out at a modest 11,282 feet. Nestled amongst taller peaks, it remains all but completely invisible from any surrounding road or town. It is approachable only by foot, most directly by hiking southwest on the Silver Creek Trail (F.S. TR 201) from the O'Haver Lake exit off of U.S. Highway 285. However, a slender glimpse of the mountain can be had by taking Highway 285 south from Poncha Pass for 0.5 miles to the pullout for Poncha Loop Forest Service Road 5325. The KIA/MIA massif is the forested mountain resting between Sheep Mountain to its south (your left as you face it) and Mount Ouray to its north (on your right).
To get a closer look, you can proceed approximately 1.5 miles on FS Road 5325 in a two-wheel drive vehicle as far as a cattle guard. Past this point, the road is currently passable only by four-wheel drive vehicles. If you're able, you can continue past the cattle guard and an informational kiosk on FS 878, and immediately turn right onto FS 201-C. Continue for another 1.5 miles to where the road ends in a turnaround. This overlook affords an impressive vantage of the Mount KIA/MIA massif, Sheep Mountain, and Mount Ouray. (Ouray, named after the famous Ute chief, means "arrow" in the Ute language. Chipeta, meaning dove, was Chief Ouray's wife, and is the name given to the next mountain to the north. These symbols, an arrow held by an eagle, and dove, are represented on the Society's logo, indicating strength and peace.)
I know; fire happens. You remember and learn from it so that hopefully it never has a chance to flare up again. Then you replant, rebuild and get on with life. Or, as the government is wont of doing, the fire is fanned back up, over and over, and "we the people" are repeatedly persuaded that each blaze is a justifiably "prescribed burn." This analogy makes me pro-peace.
But whatever your rationale, one unimpeachable fact remains: Many people lost their lives during these unspeakably catastrophic events. And after talking to Bradley and some of his friends, it seems to me that most of them don't wish to brood over the old fires as much as they seek support in finally putting them to rest. Mount KIA/MIA will be a place for gathering laughter and tears together as a soft, quenching rain over the mountains.
So, we remember, and celebrate lives, not deaths. With that, I think, most can agree. Maybe it's not such a dilemma, after all.
Or as Bradley puts it, "We would like to make the dedication to the Warriors, men and women, that served our country from the Indian Wars to the present time, that the families will have a place to go to say their prayers, that they know that the blessing of Mount KIA/MIA is where the healing starts."
IF YOU DECIDE to make the trek in, remember that even though the mountain is located on public land, there is, at present, no trail system accessing the summit. Plans, however, are under way to begin trail building efforts within the next few years.
Then, maybe, as Bradley hopes, ". . . one of these years, the Society of Mount KIA/MIA might build a museum. We just don't know what the future holds right now."
You can find more information on the mountain's exact location by visiting http://geonames.usgs.gov. From there, click on Domestic Names, then go to Search GNIS, where you can enter-in the mountain's name (Mount KIA/MIA), its state (Colorado), and the county (Saguache), which will get you to a page listing its exact coordinates, map quadrangle name, et cetera.
For additional information on the Mount KIA/MIA Dedication Ceremonies, contact CW3 Paul Edwards, RET., Attn: Mount KIA/MIA Dedication Committee, PO Box 69, Chama, New Mexico 87520, or call 575-756-4040, or email paul@mtkiamia.com
Bill Hatcher is a part-time writer, mountaineer, and xenophobe who drives his Volkswagen around chasing after UFOs in Saguache County.