By Laura Van Dusen
From tiny Shetland ponies to a massive Thoroughbred, the horses, mules, and burros living at Far View Horse Rescue thrive when they are given what we all crave – attention, love, and a chance to feel needed.
Far View, five miles south of Fairplay near Kokanee Road at U.S. 285, began in October 2010. The 501(c)(3) nonprofit takes in unwanted and homeless equines: some whose owners can no longer care for them, some within days of slaughter, and some – like the two newest residents – who were captured by the Bureau of Land Management (BLM) in roundups designed to decrease the number of wild horses and burros on public land.
On April 7, a wild mustang, then tagged #0274, and a wild burro tagged #5207, started a new life when they were delivered to Far View Horse Rescue from the BLM holding pens at Cañon City Correctional Institution (CCCI). They were welcomed by a chorus of neighs and brays from their new equine family.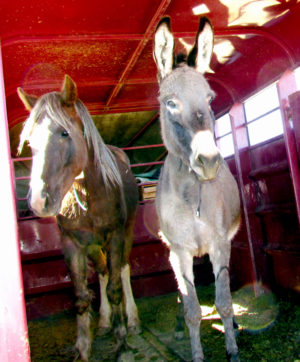 The mustang, a three-year-old gelding, was captured in a May 2013 BLM round-up in Wyoming. He has a dark brown coat, four white stockings, a blaze on his nose, and a mane that shines blue in the sunlight. He was named Paulo by the Far View volunteers.
According to Kimberly Kissmann, founder and board chairman of Far View, there is a method to naming the animals. The original name of the first rescued horse was Carson. His name wasn't changed. But, from that animal on, each adoptee was given a new name, chosen in alphabetical order. The name of the next horse began with D, and, in sequence, each animal's name has begun with the alphabet letter next in line. That's why the newest additions have names that begin with O and P. Far View is in its second rotation through the alphabet, representing 40 saved animals.
The burro, now called Ophelia, is a five-year-old jenny (female), collected in a June 2012 round-up in Arizona, where most of the wild burros captured by the BLM originate. Like Paulo, she has spent the time since capture in one of several crowded livestock pens at CCCI. She has a gray coat, beautiful multi-colored ears, a white nose and black stripes along her backbone and withers.
At Cañon City, some of the wild horses and burros are halter and saddle trained by inmates serving time at the prison, according to the website www.coloradoci.com. Established in 1986, CCCI's Wild Horse Inmate Program was the first prison program to teach inmates to train wild horses. Since then, prisons in four other states have begun similar programs, although CCCI is the largest. Kissmann said she has seen as many as 3,000 captive equines there at once. After the animals are trained, they are eligible for adoption from anyone who passes the BLM screening. The program has proved beneficial to both the inmates and the animals, giving each a chance for a life outside of prison.
But there are more horses and burros in the prison pens than the inmates can train. Far View Horse Rescue's new adoptees came from that population.
Paulo and Ophelia were held in separate pens at CCCI and, although they had only been together for the ride from Cañon City, they bonded in that short time. They were kept together their first several days at Far View, and that helped the two adjust more easily to their new surroundings and routine.
They are gradually settling in and socializing. Through the next several months they will be halter and lead trained and, once they have been at Far View for at least a year from their March 25 adoption date, Far View will receive title to the animals. That's when they will be eligible for adoption to a new home.
It is hoped they will follow in the footsteps of Poker, a wild burro captured in Arizona in 2014. He didn't trust people and wouldn't let anyone get near him when Greg and Julie McCallum of Fairplay adopted him from Far View last October. Since adoption, Poker has been halter trained, takes 10-mile hikes with Greg, and readily accepts hugs and kisses.
And, said Julie, "He trusts me. It feels good to have him trust me."
Now Poker and Greg are preparing for a new adventure, to race in Fairplay's World Championship Pack Burro Race on July 31.
Currently residing at Far View Horse Rescue are 14 horses, one burro and two mules. Most are available for adoption. www.farviewhorserescue.com
Laura Van Dusen lives in South Park and is fascinated by its history. Her second book on the subject, Early Days in South Park: Parked in the Past, will be released in 2016.