By Sam Liebl
The U.S. Bureau of Reclamation burned what it could not move and flooded what it could not burn. By the spring of 1968, the residents of Iola, a town 12 miles west of Gunnison, had been forced out. The Blue Mesa Dam was complete, and the impounded waters of the Gunnison River rose closer to the new reservoir's maximum capacity, inching toward what engineers call "full pool."
When Blue Mesa Reservoir froze that spring, a diver brave enough to descend below the ice would have found little more of Iola than discarded beer cans, charred bedsprings and concrete foundations. But to the Gunnison sage-grouse, Iola was still alive. For hundreds, if not thousands of years, the males of the chicken-sized species descended each April from wind-blown buttes to the meadows watered by the creeks around Iola. They jostled for position each year on the same patch of earth, a place called a lek. Even after decades of threats to build the dam, even after those threats were made good, even after the people of Iola watched their town be torn apart and burned, the male sage-grouse remained true to the place. In the spring of 1970 the males danced on the ice. No potential mates were there to see it, as instinct does not compel females to return to the same lek each year. Nonetheless, it was the last living act of a place called Iola.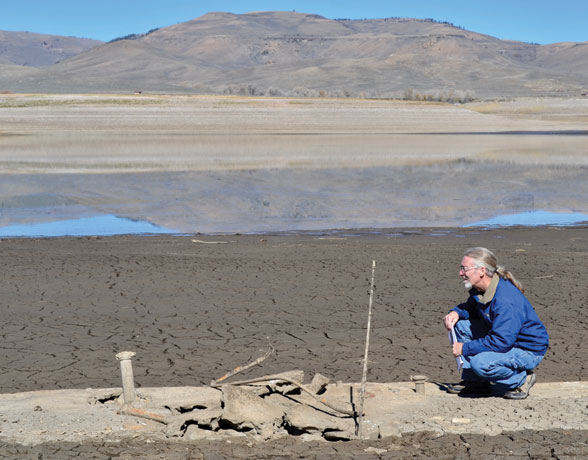 But as the reservoir receded to a record low this summer, life began to creep back into Iola. Alfalfa grew and bloomed from seeds buried in the mud, a testament to the hay meadows that once surrounded the town. Rain splashed silt off concrete foundations and rock walls that once bordered gardens. Seagulls glided off of a rock outcropping that previously served as a lookout tower and tourist attraction. They landed on the slight rise of an old roadbed that glowed green with low-growing weeds. When the sun set, coyotes joined in, leaving deep paw prints in cracking mud. Once the mud had dried out enough, people left boot marks as they looked for artifacts poking through the sediment. The site of a prosperous resort, ranching and railroad town bustled, ever so slightly, once again.
I joined a group of history seekers and added my tracks to the mud on October 20. Three Western Colorado University faculty members: Jessica Young, Sally Thode and Suzanne Ewy; WCU student Ashley Merkel; Texan and part-time Gunnison resident Craig Johnson and myself ,followed local historian Dave Primus as he told stories, pointed to maps and recreated a world flooded 50 years ago.
The places and people displaced by the reservoir were fresh in Primus' mind as we walked. Two evenings previously he had presented his "Beneath Blue Mesa" slide show for well over the 100th time. The presentation drew a packed house at the Gunnison Library. It always does, Primus said.  
"I'm not bragging; it's the subject," he said, explaining the presentation's appeal. "It's not here; it's a mystery."
We parked near the Iola boat ramp, one of the reservoir's many recreation sites the National Park Service had closed because of low water. From there we walked through knee-high weeds of kochia and lambsquarter until we crossed into the alfalfa that bordered the cracking mud of the lake bottom. Every now and then Primus would stop to point out a piece of concrete or a fence post. He looked down at his smartphone to compare our location with GPS points he had gleaned from aerial photographs and old maps.
Primus' GPS data and his knowledge from 40 years of living in and researching the Gunnison Valley guided us as we tried to sort out which foundation matched which buildings shown in pre-reservoir photographs. Fifty years of sedimentation had taken its toll. Railroad grades that were built 3-5 feet above the meadows were now almost covered up with silt. The Gunnison River had decided to take a new course. Before the dam was built it flowed close to U.S. Hwy. 50 on the north side of the valley floor. Now it meandered a half-mile to the south, bypassing the site of the 12-Mile Bridge, Iola's main link with Gunnison.
The Iola schoolhouse was still easy to find. Workers under contract from the Bureau of Reclamation burned the building down, yet the cast iron legs of school desks remained. We had difficulty locating the Big Little Store, an Iola mercantile and landmark, but we knew we were looking at roughly the same location because the hills in old photographs matched the horizon we saw before us. The pattern of light and dark in the sagebrush on the hills was the same as it had been in 1950.
The future of Iola may increasingly mirror its pre-reservoir past. A few days after Primus' tour, Blue Mesa Reservoir dipped below 30 percent capacity, 82 feet below full pool. The 20-mile long impoundment last dropped to this level in the mid-1980s. But this year's low water level is different in that it is likely part of a trend toward a hotter, drier Gunnison Basin caused by climate change. Nearly every public land agency contributed to a 2011 assessment of the basin's climate vulnerability. Accounting for the amount of greenhouse gases that had already been emitted, the authors of the assessment found that average temperatures in the Gunnison Basin will increase by five degrees Fahrenheit by midcentury, and that average annual runoff will decrease by 10-25 percent over the same period.
Blue Mesa's outlook for sustaining levels near full pool was made gloomier still with a 2017 study by Colorado State University climate scientist Bradley Udall, who found that 2000-2014 was the most severe 15-year period on record for the Colorado River Basin, of which the Gunnison Basin is part. The drought was due mostly to "unprecedented" warm temperatures which will contribute to similar long-term droughts over the coming century, Udall concluded.
Economists refer to climate change as a "sum of externalities," which is an abstract way to say that our future is haunted by a past in which we burned fossil fuels with abandon. The Gunnison Basin is haunted, too, by the Bureau of Reclamation's choice to flood prime ranch land, critical sage-grouse habitat and some of Colorado's best trout waters for the sake of water storage and hydroelectricity.
A sense of that loss overtook our group as we sat on the rock outcropping and former lookout tower site, which was splattered by bird poop and covered with tassels of moss from wetter days. Primus counted off the ten hunting and fishing resorts and two ranches that we would have seen from the spot prior to the dam. Some old timers who grew up in Iola or any of the other flooded communities say they feel too much grief to come to the "Beneath Blue Mesa" talks, that it would be too painful, Primus told us.
"They cut all the trees down with chainsaws to the projected water level. One woman came up to me after a talk and said, 'I grew up here, and suddenly there were no buildings and no trees to a certain level. It was like being in a dead spot," Primus said.
Ewy, who worked as an environmental attorney to protect communities from oil and gas extraction on Alaska's north slope, said, "That's an unintended benefit to your work, to help people process grief, even decades later."
Primus replied, "You think of the people who grew up here or who were running a little resort, and then it's this. I know I've walked around with people who grew up here, but it'd be hard to walk around and think this was the Big Little Store and here was my house. It would be hard."
What followed was a pause. There was a cry of seagulls, the rush of cars on U.S. Hwy. 50, but mostly there was silence
Sam and his family moved to the Gunnison Valley after his wife complained for years that Salida was too cold.