Cultural anthropologist-turned-baker for dogs, Salida's Sydney Schalit is baking up a storm.
Her business, The Colorado Barkery, cranks out an average of 700 handmade, meat-free "Colorado Proud" dog treats each week. With the help of Mountain Mama Milling in Monte Vista, supplier of the coarse-ground wheat, 70 percent of the ingredients are Colorado-based.
She purchased the business from Amy Reid in 2012, and although the Barkery already had a decade of success tied to its name, Sydney changed all of the recipes to meet the Colorado Proud standard.
In 2013, she received a commendation from the Colorado legislature for making the switch, and packages of her treats were handed out to legislators on the state's annual dog day that same year.
To make Barkery treats, Sydney, and her new stay-at-home-mom baking assistant, Kelli, begin with oatmeal, coarse ground whole wheat (or oat flour in the case of gluten-free treats) and water. Depending on the variety, peanut butter, cheese or carob may also be added to the mix.
"Love is the final ingredient. If I didn't love all these dogs, I'd send the ingredients to a manufacturer and have them make them."
The dog-friendly Ritz Carlton at Beaver Creek recently named the Colorado Barkery their official supplier for dog treats. Sydney hopes this could be the start of something big for the Barkery, potentially opening the door to connections with Whole Foods or Vitamin Cottage stores. She currently has 170 wholesale accounts across the country, but the Ritz will be her biggest account yet.
Transitioning the two-hour baking process from her home kitchen to a downtown commercial bakery has been a serious timesaver for Sydney. Working with a consistent oven and using the bakery's huge sheet pans allows her to make 20 times more treats in a single baking session.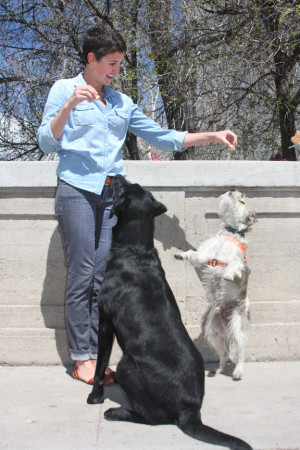 Of course Sydney has a couple of dogs of her own. Both rescues, Juneau, her mini Aussie Shepherd, and Saul, "a bundle of schnauzer mutt goodness," frolic beside Sydney as she bikes in the Arkansas Hills and benefit daily from full access to Barkery treats. She aims to keep her lifestyle as simple as possible, and she takes her canine companions on the road as she travels around the state cycling and marketing the Barkery.
After all, as Sydney says, "Be good to yourself, and your dog. Chill out. Enjoy life. Have a treat."
www.thecoloradobarkery.com, 719-221-5656