By Emmy Savage
Like many of the artists who live in Crestone and its contiguous Baca Grande subdivision, I was attracted to the landscape's sublime and terrible beauty as well as the affordable land and housing. To the east of Crestone, the 14,000-foot Sangre de Cristo mountains rise almost vertically from the San Luis Valley beneath. To the south, Blanca, sacred mountain to the Navajo, guards the valley's sand dunes, winds and intemperate moods and to the west, dwarfed by the sky above and the distance of the plain, the San Juan Mountains offer their mysterious presence in shades of pale blue and purple. When I moved here in 2011, I was reassured by the presence of a first-rate art gallery and newspaper, The Crestone Artisans Gallery and The Crestone Eagle as well as Shumei International Institute that, through a collaborative program founded by photographer Bill Ellzey and administered by artist Deana Wilfong, offers exhibit and lecture space to many local artists. 2011 was also the year that artists Robin Ross and Noah Baen moved here from New York City and founded CrestoneArtists.com and within a year took over the administration of an annual open studio tour founded by Wilfong in 2005.
On October 12 and 13, 2019, this year's eighth CrestoneArtists.com annual Open Studio Tour will offer access to the work and studios of twenty-one tough, visionary artists who draw inspiration from the environment and their own wellsprings of creativity. I visited three of these artists in their studios, Don Calledare, Allison Wonderland and Noah Baen all of whom represent the diversity, depth and commitment of the artists included in this year's tour.
Painter Don Calledare's work has evolved from a lifelong interest in surrealism, science fiction and philosophy. For his images he draws upon personal dreams and an archive of pictures of current and historical figures and events which he incorporates into his six by eight-foot canvases. His dream and photographic images offer an unfiltered look at our anxieties and fears and sharply focus on the horrors we encounter in the daily news. As well, through color and the juxtaposition of images he tries to address the social structures that support the ascendency of brute force in human societies. The honesty so derived in Don's paintings is both reassuring and disturbing. His is an energy that prowls and smolders with an implicit challenge to complacency.
When I visit the home and studio of performance artist and sculptor Allison Wonderland, I am reminded of the astonishing beauty of our location. Ringed by mountains and the wide vistas of the valley, Allison seems to have placed herself at the center of creation itself. Not surprisingly, the materials of Allison Wonderland's art are quite literally the plants, grasses and earth of her immediate landscape out of which she sculpts her transcendent organic shapes that seem to fly like birds and dance like dancers. Her work as a hospice caregiver takes her as far away as Santa Fe and I ask why she locates her home and studio here in Crestone. She answers that to be an artist requires focus and attention in order to align one's being with one's "essential breathing self." It is simply, she says, a matter of efficiency. This is a geography that supports attention to one's still center and a sense of shared consciousness. For Allison, there is no separation of matter from spirit. Our need to experience the divine, Allison says, is why we make art and she considers making art an act of prayer. Beginning with seemingly random marks on a pad of paper, making art is also, she says an act of trust.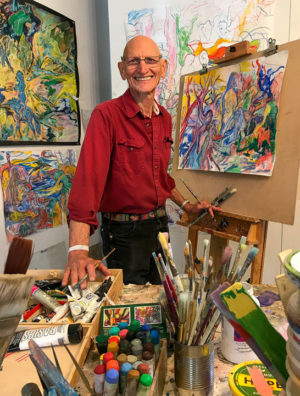 It is an easy segue then to Noah Baen's work that begins with random marks and builds as he pulls more and more material out of his subconscious. He says he is constantly surprised at all the things that come up as he works toward realizing his intricate black pen drawings and his colorful, multi-media paintings, all with landscape elements or figures in landscape. But Noah is quick to point out, his objective isn't to paint a landscape or a tree or figures but to paint the vitality of one's subjective experience of these things. Like Allison's insistence on working out of her "essential breathing self," Noah asks us to trust in our essential sensory intelligence and thereby find our basic impulse to dance and sing. His is a process of learning to trust his intuitions and the inherent wisdom of being.
In addition to the studio tour that Noah administers, a visit to the Shumei International Institute (SII) would alone be worth it for its stunning location and mountain inspired architecture. Visitors may drop in any time between 8 a.m. and 6 p.m. and ask for a tour of the grounds and gardens. Inspired by the Japanese visionary Mokichi Okada, Shumei Crestone represents the Earth element of SII's three locations throughout the world. Its mission is to build community through natural agriculture, the healing art of Jyorei, and the promotion of the arts. Mokichi Okada especially believed in the transformational and inspirational power of art to lift the spirit and to that end, Shumei offers exhibit and lecture space to local artists and artists from all over the world.
Like Shumei, Crestone's Artisan's Gallery strives to build community through the arts. Located in the town of Crestone at 120 Cottonwood, it has been providing space for local artists to show and sell their work for 15 years. It's a co-operative effort by a core working membership of twenty artists and an additional 30 consignment artists. The gallery is managed, maintained and run by the artists themselves who come from as far away as England, Ireland and Mexico and as close by as Crestone, Alamosa and Salida.
The Gallery is a lovely, airy space with a large covered deck and a beautiful garden. Including the work of both artists and artisans, it displays everything from paintings and sculpture to dried wildflowers, weavings, jewelry, wooden flutes and lamps and wind chimes. Visitors will always find something new and something within their budgets. Throughout the year the gallery hosts events featuring new art and artists while they also support events and causes in the wider community.
Out-of-town visitors to the tour can find lodging on the Crestone Eagle's website, www.crestoneeagle.com and pick up a brochure at the Artisan's Gallery that features a map and a list of the participating artists with examples of their work. On the evening before the tour there is a free preview reception at the Crestone Charter School on Friday, October 11 from 5 to 7 p.m. Then the actual tour takes place from noon to 5 p.m. both Saturday and Sunday. The complete catalog and tour map are also available at www.crestoneartists.com and at many of the locations where Colorado Central Magazine is sold.
As one of the participating artists, I truly enjoy opening my studio to my neighbors throughout Colorado. The arts really are a special way to build and strengthen community.