by Mike Rosso
Tooling along U.S. Hwy. 50 between Cañon City and Salida at 60 mph, it's easy to zoom right past the hamlet of Coaldale, nestled along the banks of the Arkansas River. But adventurous travelers might want to consider taking a break from the hot asphalt and stop under some cool, shady cottonwood trees to visit the Art Post at Itty Bitty Lakes and artist Robert Parker. Bob's got his art studio and gallery open to the public most hours and, for those willing to linger a while longer, might get a chance to tour; his wood-sculpting studio, his painting studio and his monument and steel-sculpting studios. Visitor's might even get to meet the resident llama, Braveheart, and Andalusian donkey, Bailey. Bob and his wife, Kay might be tempted to show off the small lakes, once part of a fish hatchery. All this in what was once the Coaldale Post Office.
The point is – sometimes it's worth slowing down to experience the real deal – an artist committed to his work and a rural lifestyle that is the envy of many a strung-out urban resident. His whimsical metal sculptures, hand-carved birdhouses and spiralling wood walking staffs are just some of the ways he chooses to express himself through art – talents he has been honing for many years.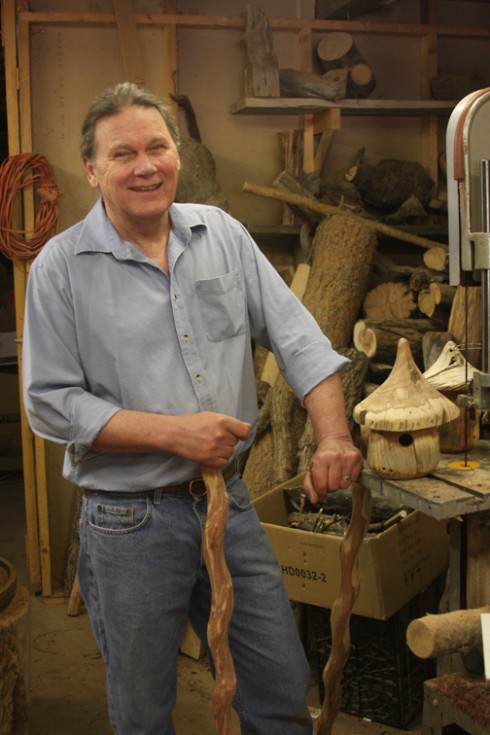 We caught up with Bob in Coaldale during a rare moment of inactivity on his part to pose some questions about his background and his work.
When did your art career begin?
I have needed to express myself visually probably since I was born. I sold a few pieces in high school and then more work at Northern Arizona University and University of Arizona while getting my BFA with Honors. The last time I was employed by anyone other than myself, I worked for Arizona Training Program at Tucson. I created a couple dozen wall murals for the students and residents. That kicked off my career. That was in 1973 or 1974.
Did you have an alternate career path?
Throughout most of college I had a double major – Creative Writing and Sculpture. One day, almost four years into the process, I decided to become a writer. I transferred to U. of A. in Tucson where they had a great Creative Writing Department. In Admissions they determined I could not get a writing degree unless I completed two years of a foreign language. My memorization skills are very weak so that day I became an artist.
Any formal schooling/training?
BFA w/Honors in Sculpture from Northern Arizona University.
How long you have owned Itty Bitty and could you provide a little background on the building and how you came to own it?
I first came to Bighorn Sheep Canyon on New Years Day 1980. We settled in Cotopaxi and started the purchasing process in 1984. It was a process because I had little money and no credit. In effect I rented the property with an option to purchase with the monies paid applicable to the principal. In effect I had no equity until 15 years later when we paid the note off. It was a huge risk, but I always believed that if I worked hard enough we would be able to own Itty Bitty Lakes outright. Kay was a wonderful help and because of her we were able to own it five years earlier than originally planned.
The property was a State leased fish hatchery in the 1930s. Through the years a campground was added, the main building was added to and became a community grocery store, pool hall, post office, diesel garage, information center, real estate office, apartment rental and finally home, studios and gallery for Kay and I.
Did you do shows on the road? If so, where and for how long?
I have shown and sold in museums, art centers, National Parks, National Monuments, Indian Reservations, wildlife preserves, galleries, stores, convention centers, hotels, officers clubs, military bases, university campuses, residential treatment centers, renaissance fairs, corporate offices, race tracks, city streets, city parks, sculpture parks, shopping malls, strip centers, casinos, coffee houses, restaurants, bars, Arabian ranches and private homes. I have pretty much continuously owned an art gallery (sometimes two) since 1988. I think that brings the total to over 600 shows spanning about 40 years.
How did your interest in portraying native Americans begin?
I grew up in Tucson close to the Papago (Tohono O'Odham) and Yaqui lands. College was just off of the Hopi, Navajo and Apache lands. I lived with a couple of Anthropology graduate students and one Saturday they asked if I wanted to go with them to a Hopi Kachina Ceremony. From that day I was captivated. I also studied ancient European and British cultures and mythologies, but couldn't afford to go to Europe to study castles, ruins and artifacts. I could study the ancient cultures and mythologies, ruins and artifacts that were virtually in my own back yard. The Hopi Ceremonial Dancers were my first focus. Later, my focus became the Anasazi ruins, artifacts and primarily their ceramics.
Eventually it all led me to Mesa Verde National Park. Mesa Verde became a major force in my artistic life that continues even to the present.
You work in a variety of mediums – do you have a favorite and why?
For many years I worked in a dozen mediums. Even though my degree was in sculpture it was very difficult for a young artist to sell sculpture and even more difficult to have the space and tools to create sculpture. Most art buyers at my level were more interested in paintings, drawings and fine crafts, and paintings could be created on the road with less need for expensive equipment and space. Over the years the mediums became fewer with my two-dimensional focus being acrylics and pastels and my three-dimensional with bronzes, wildwoods and eventually steel. For the past six years almost all of my energies have gone into monumental wildwood projects and whimsical steel sculpture.
Who are some of your artistic influences?
Sculptors from Michelangelo, to Rodin, to Henry Moore, to George Lundeen all have a place in my work. I have also studied painters galore. When it comes to wildwoods and steel I am pretty much on my own. At my age it is probably better that way. It is important to study who has gone before and closely watch my contemporaries, but at some point one needs to take that mass of research and study, shake it all up and create one's own work.
Some thoughts on the current art market in general?
Ploowy! The art market and I don't see eye to eye. I am too old and cantankerous to worry about it. I won't change it and it definitely will not change me. I live to create and be a viable member of my family and community. That is enough.
What inspired you to do the large tree pieces?
Mesa Verde and a 700 year old juniper forest that was uncut, un-groomed and virgin. I started seriously sculpting and finishing wildwoods thirty years ago. I started with a hiking staff format, went to vases and other small sculptures, on to larger works, always asking the tree what where it wanted to take me. It became a joint project, the tree and I, until finally the entire tree became the subject. I would create more sculptures in this genre, but space, location and funding for interior monumental work is very scarce.
People are often surprised that I work in a variety of mediums. For me this is simply a sane approach to making the creative statement. What can be said in pastels and acrylics not only differs from each in two dimensions, but is different both in form and viewpoint than what can be said in Bronze. Focusing in – what can be said in bronze, which is an additive form of sculpture with translations from one substance – malleable clay – to another – molten bronze, and what can be said in steel which is also additive, but requires working in an incredibly rigid substance that refuses to be bent in three directions simultaneously, to wildwood which is totally subtractive and infused with the personality, limitations and history of the individual tree I am working with.
Into the above creative equations I mix emotion and the human experience with attention to detail and finish. My individual works are often diverse, sometimes to the extreme, but as a body of work it all flows to become a single lifetime's observation of the universe and how this artist is reacting to it.
Editor's note: Bob Parker passed away in his home on April 1, 2021.