While touring the now-defunct Conquistador Ski Area near Westcliffe in early November, I was struck by a large oil painting hanging in what was once the main lodge of the resort (now a church camp).
The painting depicted a glamorized version of the Conquistador slopes.  What struck me most was the signature, Paul Folwell. I had known Paul back in my Durango days – I even own several of his works – so was now presented the perfect opportunity to contact him after so many years. Sure enough, Paul had been commissioned in the early 1980s by the area co-founder Dick Milstein to do a painting of the proposed expansion area. They hiked the mountain together, and the results can be seen on page 13. Knowing of his vast collection of ski-related works, I ventured to ask if he'd like to help provide artwork for this month's cover. He graciously agreed, and his oil painting "Powder Puff" is this issue's cover.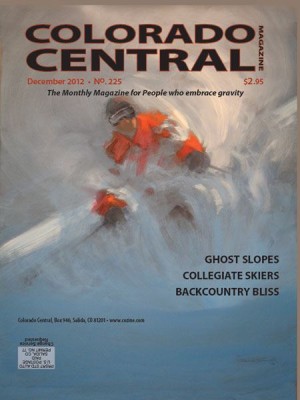 Paul was part of the original team that created Purgatory Ski Resort. An expert run on the backside of Purgatory, Paul's Park, is named for him. A native Coloradan, he attended the Colorado School of Art in Denver, where he studied for around 18 months before being recruited to work in Cleveland, Ohio for the American Greeting Card Company. His days in the early 1960s tending bar at the Red Ram in Georgetown, Colo., got him connected with many folks in the ski industry. He became a full-time artist in 1992 and currently lives with his wife Cheryl in Hermosa, Colorado, where his studio is also located. His website is www.paulfolwell.com.– By Mike Rosso.