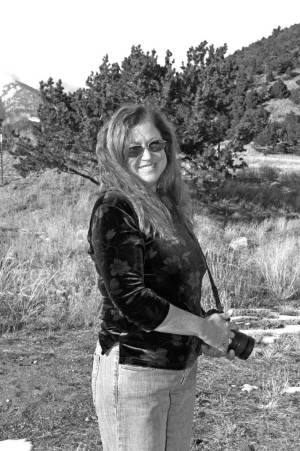 Gail Brooks was born in Japan. Because her parents were stationed there during the Korean War, and because she decided to enter the world during a rare Tokyo snowstorm, she was born off base and enjoyed dual citizenship until her mid-20s. Her family returned to the U.S. when she was 3. She graduated high school in Massachusetts and spent summers and weekends in the lake region of Maine.
After attending New England College in New Hampshire where she studied art and education, she decided to return to Asia before she lost her dual status. She acquired her first camera in Japan and learned darkroom at the area hobby shop. From the Far East she changed continents to attend the American College of Switzerland and continued to study art, travel and take photographs.
In the late 1970s, she met her husband, Lenny, in Steamboat Springs, Colorado at the Steamboat Pilot newspaper, where they both worked. Together, they soon opened a photography studio, gallery, and camera store, and ran it for 20 years while raising their family of two boys. Gail also taught photography and darkroom at Colorado Mountain College, Alpine Campus for 12 years.
After selling the F Stop, the Brookses relocated to Grand Lake, Colorado where they started and ran another business, the Grand Lake Emporium & Brooks Gallery, until it was sold in the 90s.
Besides being a photographer, Gail creates pottery, makes jewelry, dabbles in watercolor and acrylics, and then mixes them all together. The Spirit Pots she creates are inspired by the properties of the gemstones used and the colors of the glazes.
In addition to her love for art and photography, Gail designs websites and works with clients to design graphic projects such as ads, business cards, brochures and more.