A daughter compiles a collection of her late father's columns.
Popular Denver Post columnist Ed Quillen died suddenly last June, leaving behind a lifetime of writing, including thousands of weekly columns.
Abby Quillen, his daughter, is compiling his later columns into a sequel to his 1998 collection, Deep in the Heart of the Rockies. The new anthology will be entitled Deeper into the Heart of the Rockies, and the release date is scheduled for November 1. The book will include 120 of Quillen's best columns published between 1999 and 2012.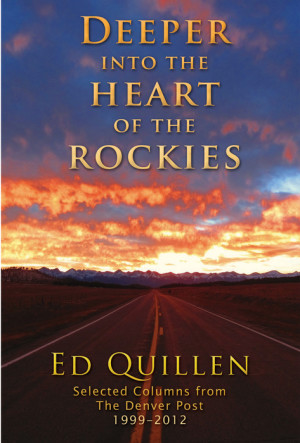 "I've read nearly a million of my dad's words in the last several months," says Abby, a freelance writer based in Eugene Oregon. "When I took on the project, I'm not sure I knew what I was getting myself into. But it's been fun, and I've gotten to work with a lot of my dad's friends and colleagues. I think my dad would love that we're doing it."
Abby is launching a Kickstarter campaign today (Monday July 8) to crowdfund the latter stages of the project. "We're raising $5,500, which will help us with our last round of editing, as well as production, distribution, and marketing," she says.
Kickstarter campaigns operate under an "all-or-nothing" funding model so if Deeper into the Heart of the Rockies doesn't reach it's goal by August 7, Abby will go home empty handed. You can follow her progress on edquillen.com.
For as little as $5, you can help the project come to life. For $18, you can pre-order a copy of the new anthology and have it shipped to you. If you give more, Abby is offering lots of "rewards," including copies of Ed Quillen's first anthology, a limited-edition collection of bookmarks, an electronic anthology of Ed Quillen's High Country News articles, and vintage prints of Ed Quillen.
Ed Quillen was a regular contributor in the Denver Post's Opinion section for 26 years. His was the longest-running column in the paper's history, according to Curtis Hubbard of the Denver Post.
Quillen wrote about history, politics, water issues, computers, and small town living in his weekly dispatches, which he transmitted to the paper from his home in Salida. He also regularly wrote for High Country News and his work appeared in various other publications, including Colorado Homes and Lifestyles, the Los Angeles Times, and Utne.
"My dad had a knack at humor, an encyclopedic knowledge of Colorado history and lore, and he was never scared to say what he thought about anything," says Abby. "I'm excited to create something lasting for his longtime fans and hopefully some new readers as well." You can learn more about her Kickstarter at http://edquillen.com/kickstarter.
###
If you'd like more information about Deeper into the Heart of the Rockies, or to schedule an interview with Abby Quillen, please email abbyquillen@gmail.com or call 541-505-0972.