By Daniel Smith
No matter where you've lived, we've all heard the "big snowstorm" stories.
Often it comes handed down as a verbal history, from older relatives or from boxed old photographs showing snowbanks as high as … well, you name it.
"As high as second-story windows" is one claim I remember from my youth.
In Colorado, we have the mountain weather to produce record-breaking snowfall quite frequently, even with the expanding drought conditions.
One very noteworthy storm produced more than 75 inches of snow at Silver Lake, Colorado, April 14-15 in 1921 – the official 24-hour national snowfall record, according to National Weather Service meteorologist and historian Christopher Burt, author of the book "Extreme Weather."
Then there are records for snow accumulation from single-event snowstorms, which can last days; records for a single month, records for snow seasons.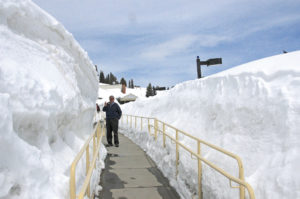 Like any scientist, Burt often points out important variables such as snowfall versus snow depth (on the ground over a period of time). In writing about the reliability of snow reports from various sources, he points out factors like light, fluffy snow that compacts on the ground and temperatures above or below freezing that affect snow-melt.
The Colorado blizzard of Oct. 24-26, 1997, was one of the most memorable in recent history.
Burt wrote that this storm 21 years ago was a killer, leaving some people dead, others injured or stranded in the rare October mega-storm.
Some of his memories include sustained blizzard winds gusting to 35 miles per hour, with north winds up to 55 miles per hour at the Colorado Springs Airport with 21 degrees and 19 inches of snow already measured on Oct. 25.
Three people died in El Paso County of carbon monoxide poisoning waiting for help in their snowbound vehicles over 24 hours. One person froze to death in a vehicle at Fort Carson, another person froze in Bent County out hunting, an elderly woman died trying to walk home in Otero County after her vehicle became stuck. Two people were injured when a gas station canopy collapsed on them from the weight of the snow.
The governor declared a state of emergency, as thousands of people were stranded and hundreds had to be rescue from their vehicles. The Army, National Guard, law enforcement and private citizens with proper snow-capable vehicles were involved.
Power outages were widespread in eastern and southern Colorado.
As a radio network manager then, I had two employees keeping us on the air for more than 52 hours before I could break through drifts to get to our facility in the Springs, bringing food and drink – they had already emptied the vending machines.
There were also widespread deaths among range cattle then – as many as 20,000, as agencies mobilized with helicopters dropping hay to the stranded animals.
Burt reported snowfall amounts were impressive and varied. One to two feet fell in the eastern San Juan, LaGarita and Sangre de Cristo Mountains, while the San Luis Valley got only a few inches of snow. The Springs and Palmer Divide were hit hard – up to three feet and more, and blown into drifts as high as 15 feet. The Upper Arkansas Valley had less snow, but the blizzard winds stacked it high.
It takes quite a snowstorm to impress someone from my part of the country, the Upper Peninsula of Michigan, where lake-effect snow piles up records regularly. Marquette, on the southern end of Lake Superior, used to be record-setting for cold and snow, regularly over 200 inches a season.
One of the records was an amazing 390.4 inches for Keweenaw County in the winter of 1978-79. Think of over 30 feet of snow.
So whenever someone declares a snow record for a location, there's usually an "Oh yeah? – well we had …" response from someone else. But Colorado's mountain areas have had plenty of eye-popping snowfall amounts. 
Daniel Smith is a semi-retired print and broadcast journalist who grew up in snow country and has stories to match anyone's.