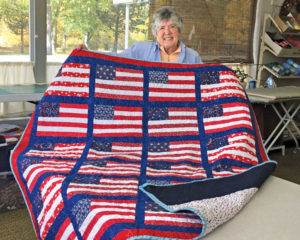 Whether a patchwork of heirloom fabrics or a collage of scrap pieces stitched together in an act of caring, a quilt carries associations and speaks of love and comfort. For members of Chaffee County Quilts of Valor (CCQofV), a quilt is a handmade offering of gratitude presented to veterans in acknowledgement of their service.
"We are 26 quilts away from our goal of 1,000," says Linda Lafford of Buena Vista who started the local chapter of QofV 15 years ago. "976," she boasts. "We'll reach our goal by the end of the year."
Linda and her small band of quilters meet once each month to cut and piece together squares, rectangles and "jellyroll" strips of fabric. Not the quilting bee of the past where women worked together on one quilt, each quilter cuts and pieces together her own individual "labor of love."
Yellowbrick Road. Rain Fence. Jelly Roll. Some patterns are traditional, others contemporary. Some come from kits, others from the quilter's imagination.
After the quilter has pieced together pieces of fabric for the "top" – quilting comes with its own lingo – Linda sends the top to a long-arm quilter (someone with a large quilting machine) for batting and quilting. The piece is returned to the original seamstress who then adds the binding. Linda provides a back, label and presentation case. A finished quilt measures at least 60" x 70."
Though these quilts go to vets all over the country, most are presented to graduates of the PTSD unit at Denver Veterans' Administration Hospital upon completion of a seven-week residential program. Each graduate chooses a quilt to be presented at a ceremony before family and friends.
Vietnam veteran James Merritt is the peer specialist in the PTSD program and also one of its 2010 graduates. Merritt heads the graduation ceremony. "The vets love red, white and blue," he says. "I tell the vets, 'Whenever you're cold, I hope you put this quilt on your back for warmth and recognize it as a gift from Quilts of Valor.'" He also hopes people who know of a deserving vet will contact Quilts of Valor.
Each vet receives a letter identifying the quilter and describing the pattern. "Often we get a response," Linda explains. "I spend 40 hours on the project and sometimes get discouraged. Then I go to the mailbox and find a 'thank you' letter. I tell myself, okay. I can start over. It's very dear to my heart." She admits, "I used to be shy." The project has changed all that.
Linda keeps a picture album of quilts, quite a hefty collection of handiwork. One shows an appliquéd map of the U.S. Another is a Stars and Stripes pattern. "That one we gave to a paratrooper who had lost both legs," she explains. An American eagle is center stage of one quilt while another boasts of a series of American flags. Others draw from shapes joined together in contemporary motifs.
Linda's "Paws of Valor" is a showpiece. For the quilt, she pieced together patriotic images of soldiers and service dogs and added 15 borders. "I'm looking to give it to someone who has adopted a service dog," she insists.
Linda presented one of her own Rail Fence quilts to Charlie Plumb who spent six years in the POW cell next to the late Senator John McCain. She told Plumb, "We do care about you and your well being." Another Vietnam vet once told her, "We didn't think anybody cared. We just got spit on." She admits, "That broke my heart."
"There were tears all over Bev's Stitchery when we presented a quilt to the mother of fallen Buena Vista soldier, Barrett McNabe who died in Afghanistan," she recalls. Quite by chance the quilt displayed an eagle, and Linda recalls his middle name meant "eagle" to represent his Lakota heritage. When she presented a quilt to a retiring vet at a Salida gathering, she received a standing ovation.
"It's humbling to be involved with a program that tries to say 'thank you' to our veterans," says Connie Biederbeck of Nathrop. "We pick out our pattern and choose fabric from the "stash" at Bev's Stitchery or The Hodgepodge in Salida. I'm not sure how many I've done – maybe eight," she adds.
Like others in Linda's group, Connie also belongs to the Monarch Quilters' Guild. "Last Christmas," recalls Connie, "the guild wanted to help Linda reach her goal. We jumped in and surprised her with over 20 quilts."
CCQofV has received generous grants from Sangre de Cristo Electric, Monarch Mountain and Nestle and welcomes individual donations at their website: ccqof.org
In a former life, Judy was a high school English, journalism and humanities teacher.