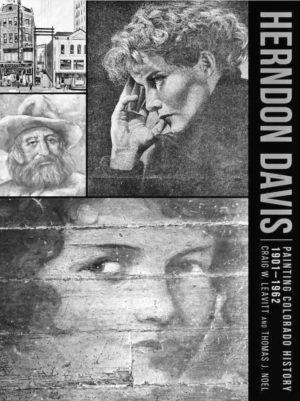 By Craig W. Leavett and Thomas J. Noel
University Press of Colorado
290 pages, 173 color, 8×10
ISBN 978-1-60732-419-5 (paper), ISBN 978-60732-420-1 (ebook)
Reviewed by Virginia McConnell Simmons
Readers who are interested in Colorado's art and history will welcome this cornucopia of paintings and drawings by Herndon Davis. Although he might not have gained renown in the highest circles of art or society, this prolific artist won honor in his lifetime for evoking Colorado's cultural story and for sharing it with skill, affection and his notable drinking companions.
Speaking of discriminating circles, it's fun to remember that his best-known painting, The Face on the Barroom Floor, was a farewell salute to Denver's grandes dames who hired and then fired him in the 1930s during their effort to bring opera and refinement to Central City.
Most of the original images herein are from the collections of the Western History and Genealogy Department of the Denver Public Library and of History Colorado, which jointly sponsored this publication. It is divided into sections containing portraits, the largest group; paintings of santos, which are Hispanic religious pieces; places; and murals and miscellaneous subjects. The book's compilers probably struggled to unify its contents but resorted to alphabetical arrangements within each section. A list of illustrations and an index will prevent the reader from otherwise getting lost.
The large section of portraits reveals Davis's fascination with well-known individuals from frontiersmen and women to Colorado's leaders, local leaders, governors, presidents and movie stars. Some portraits were commissioned, but others apparently are individuals who simply caught his fancy. Images often originated as photographs that he copied, as is true with Molly Brown's stern photograph from 1910, but he often softened his subjects' appearance a bit, as is seen in the faint twinkle he added to Molly's expression.
The santos are Davis's renditions of the pieces in Dr. Nolie Mumey's collection, the largest and most important in the country. These exquisite paintings have an honored home in the Denver Public Library. The San Luis Valley, the source of some of the santos, seems to have caught his special interest during a trip there, for he also painted landscapes of Fort Garland in 1947, as well as portraits of a few of that area's well-known characters, such as Kit Carson and Tom Tobin. The majority of places, though, are around Denver, Davis's usual stomping ground.
Short historical essays accompanying each image provide useful information for historians and preservationists, and an extended biography of Davis himself is provided. The volume also has notes, a bibliography and that very welcome index.
In total, this book is a treasure.