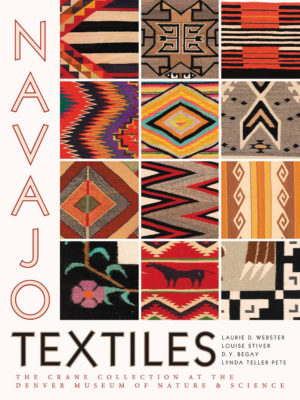 by Laurie D. Webster, Louise I. Stiver, D. Y. Begay, and Linda Teller Pete, with introduction by Ann Lane Hedlund
University Press of Colorado, 2017
ISBN 978-1-60732-673-1
Paper, large format, color, 230 pages, $34.95
Reviewed by Virginia McConnell Simmons
Here is a book that will be coveted by curators in regional museums, libraries, private collectors, tourists in Navajo Country and visitors to the museum in Denver's City Park, who have been beguiled by the beautiful rugs and other hand-woven textiles.
The eye-catchers in this dazzling volume are Navajo weavings of amazing quality. The designs, materials and meticulous workmanship in these textiles will take the breath away of viewers of the large color plates in the volume. Each is accompanied by a brief identification, and detailed, technical information of each follows in an appendix. Origins of the textiles are from the 1800s to the present, with the largest number being from the early and mid-1900s.
Living in various parts of the Navajo Reservation, the weavers sold their work at trading posts, fairs, museums, and occasionally from their own doors to tourists and well-known collectors, past and present. Biographical information about some is found in the text and in old and more recent photographs. Contributing to the value of this book, each of the authors is a recognized authority on the craft, the weavers who are represented in this book, exhibiting and curating.
A criticism pertains to the printing of the illustrations. Being a weaver myself, I paid extra-close attention to the 57 large color plates of textiles and to the historical photographs in the book. Both types are printed too dark, and a few colors in textiles are indiscernible, although the main colors are bright and apparently accurate. Some of these problems can be solved by reading the appendix.
Millions visit the Denver Museum of Nature & Science, and many will be interested in learning about the Cranes, collectors of the Native American exhibits in the wing which bears their name. Francis and Mary Crane were New Englanders with a strong acquisitive penchant, like that of many other well-to-do travelers of their era. But unlike tourists who casually fill their suitcases with souvenirs, the Cranes began collecting indefatigably. Their noteworthy activities led in due time to creating a museum in the Florida Keys, where they retired, but the size of their collection in a sparsely-populated location led to their decision in the 1960s to donate the textiles to the museum in Denver. Examples shown in this book's plates are merely part of the total Crane Collection, which is well worth a visit.