By Rosemerry Wahtola Trommer
ISBN: 978-1-77349-016-8
$19.95; 114pp.
Reviewed by Eduardo Rey Brummel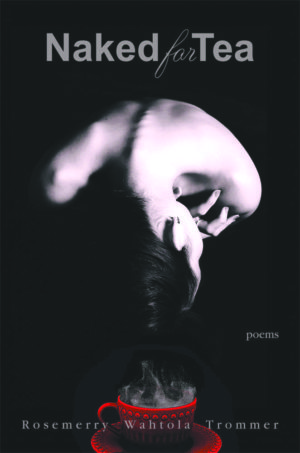 At the bottom of the menu board for the hospital kitchen where I work, is a place for "Quote of the Day." It's an odd week without any quote by Rosemerry Wahtola Trommer. Trommer has been an integral part of Colorado poetry for over two decades' and she has served as Poet Laureate for both San Miguel County and Colorado's Western Slope. Her poetry has appeared on Prairie Home Companion, in O Magazine, and in numerous poetry journals and anthologies. It is this reviewer's sturdy opinion that the world is a better place because of Trommer's poems. Now the world has been made better still, with the publication of "Naked for Tea," her ninth collection of poetry, and a finalist for the 2017 Able Muse Book Award.
Wayne Muller, author of "Sabbath" and "Legacy of the Heart," writes in his foreword "The elegance of [Trommer's] simplicity will blind you to her mastery." I confess to having difficulty reading "Naked for Tea," the first time through. Persistently, I'd have to stop, often mid-poem, and let my heart and head catch up with one another. It was an ongoing occurrence, having to put the book down and let the ripples of the just-read poem continue until they stilled. I have read each of Trommer's eight other books of poetry, and with no doubt at all, I can say "Naked for Tea" contains her strongest work. There is an obvious uptick in both depth and subtlety. Even her more playful and lighthearted poems, such as her "Wild Rose" ones, still resonate with something true. Trommer is especially deft with the closings of her poems, ending many of them with a turn, casting what you've just previously read into a totally different perspective – if not also recasting how you perceive your entire life.
"Funny how much more beautiful it was
when I thought it was a hawk riding the air,
that crow."
– The Fourteenth Way of Looking at a Blackbird.
In a more just world, Rosemerry Wahtola Trommer would be better known, and she'd be included with Sharon Olds, Caroline Forché, Naomi Shihab Nye and Jane Hirshfield, whenever people talk about contemporary poets who will stand the test of time. For some reason, that hasn't happened.
Ode to Joy, obituaries, camping with Audrey Hepburn, hitchhikers, Icarus, and taking a couple slugs of absinthe before jumping into the car with God, are just some of the subjects addressed in this latest collection of Trommer's poetry. Trommer takes risks with her poems, and those risks pan out far better than favorably. And while it will be no risk at all buying and reading this book, your outcome will still be far better than favorable.