By Mike Rosso and Elliot Jackson
It's a sunny Sunday afternoon at "The Vic," or the Victoria Tavern, in Salida – early for barflies, although there are a few of them buzzing quietly over their beers and shots. It's quiet, mellow, but the atmosphere is about to change. By twos and threes, calling greetings to the owner, the patrons and each other, a group of about ten guys and attendant entourage come sauntering into the bar with the breezy assurance of favored sons – which, it could be argued, they are. Probably no other group of musicians has played the Vic as much as the Lazy Alien Blues Band – going on for thirty years, if some of the lies can be believed. Deke, J.N., Denny, Ernie, Jimmy, Chris – as they cluster around the pool table, invoking a pose from a long-bygone photo shoot, a voice suddenly rises in song:
Going to the hot tub and we're … gonna get laid …
We recognize the tune: isn't that "Chapel of Love"?
Going to the hot tub and we're gonna get laiiiidd …
Suddenly there are three, four, five voices joining in, rich and improbably beautiful harmonies rising and converging around that pool table, where a poison-green inflatable alien has been splayed out like an autopsy candidate on a coroner's slab:
Going to the hot tub and we're gonna get laiiiidd …
Going…to the Hot Tub…of LOOOVE!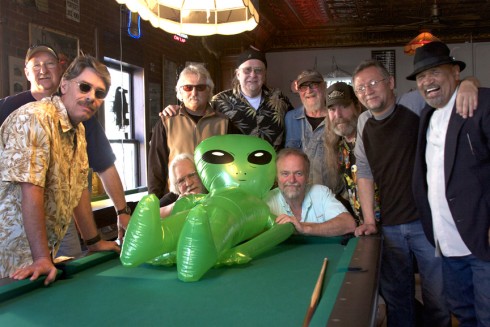 The impromptu chorus ends on a high note and dissolves in guffaws from the guys, some cheers and whistles from the bar. We're torn between laughter and something akin to awe. Damn, they sound good! Guess after thirty years, they should sound good. They've been developing as musicians for almost that long, after all.
Depending on who you talk to, of course. That's the fascinating thing about trying to get to the bottom of any story about the Lazy Aliens – even the cast of central characters can't seem to agree on what happened when, exactly, or where: however, they're all enthusiastic sharers of their stories from the road, and they heartily appreciate each other's stories, even when they contradict each other. That being said, herein follows some of the myths and legends of The Lazy Alien Blues Band.
J.N.'s Version
We'll start with J.N. Bates, lead singer for the Lazy Aliens. J.N. is a commanding figure with a powerful voice and a stage presence honed by his alternate performance life: acting in community melodramas. As we talked with him, he was getting ready to face surgery, and The Aliens were facing the task of preparing for a couple gigs at the Vic without him. According to the version that started with J.N., three employees of the Monarch Quarry were laid off for the winter of 1981 and decided to start a band to have something to do. At the time there were two other Salida-based bands, Papa J and Cruzzin' F, playing the bar and club scene, such as it was: the only venue in town at the time was the Office Bar in the West 100 block of 1st Street. The Victoria Tavern, according to our sources, was "a dive" at the time and didn't hire live music.
The core of the original band consisted of the three laid-off quarrymen: J.N. on vocals, Deke Rushton on harmonica and vocals, and Jimmy Luchetta on guitar. Jimmy, a Salida native, had started to develop his chops early: his first band, the Cosmonauts, were rocking Salida's Scout Hut in 1965. Denny Daley, the bass player, had been a solo act, playing weddings and other functions, until he moved to Salida in 1980 and fell in with the Aliens. All these players remain part of the band's line-up today. Another early guitarist was J.B. Monroe, who moved to Denver.
The band rehearsed at Jimmy's attic apartment on C Street and in Denny's mother's garage. Opinions differed among the remaining original members on when and where their first paid gig was – one said the East-West Club, one said the Vic – FIBArk was mentioned – but consensus finally seemed to settle on a long-gone club called Butch's in the Smeltertown area of Salida, owned at the time by Butch Raby. J.N. recalls the band having to "borrow up a bunch of sh*t" to use as a P.A. system. From this auspicious occasion a working band was born.
There remained the problem that seems to plague any number of bands: how to get a drummer to stick around. Or, having got him to stick around, how to get rid of him when he didn't work out. One ex-drummer who lived in Colorado Springs hit on a novel approach to get himself fired: hijacking the band's equipment. Members of the group dropped in on him unexpectedly in search of the missing equipment, which was found stacked up in his house. The drummer ran out and locked himself in his garage. Soon he got away with six band members in hot pursuit in a 1964 Cadillac, an entire day spent chasing the thief around the city but they finally gave up and drove back, equipmentless, to Salida. After that bout of ill fortune, the band continued playing wherever they could get a gig, and after going through a string of drummers ended up in 1983 with an 18-year-old named Chris Thompson, who, until then had been playing in a country and western band. Chris is still with the Aliens today.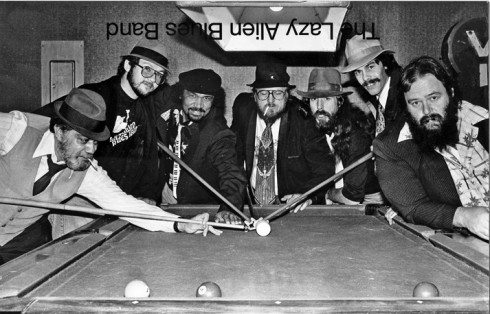 The band's original name, DF and the AH Reamers (don't ask – we won't tell), was quickly ditched for the one they use to this day – The Lazy Alien Blues Band. With the addition of a horn section – Tom Mallary on tenor sax and flute and Chris Byers on sax – the Aliens soon after began getting gigs at regional ski areas. Things were starting to cook. But the band was poised to gain a big dose of talent that would help define their sound when, in 1984, keyboardist Ernie Hatfield moved to town from Seattle.
Ernie's Story
Ernie Hatfield has a musical pedigree that is the stuff of legends: his father (also Ernie) was a backup singer for Ella Fitzgerald in the 1940s and went on to perform as a jazz pianist. Stories circulate of Hatfield Sr.'s amazing ear and talents earning him a hallowed spot in Seattle's jazz scene. Hatfield Jr. met Ella on a number of occasions and says she offered to oversee his musical education but his mother put her foot down at the idea. Nevertheless, his own talents were not slow to develop even without music school: Ernie inherited a Hammond C-3 organ from a local church at the age of 14 and played rock music in his first band, Pancho Villa and the Bandits, at the age of 16.
Shortly after his arrival, Ernie was invited for a practice session at Chris Byers's place. The way he recounts it, he was nervous at that first encounter: the way the other Aliens tell it (and they all seem to agree on this), they were positively petrified when Ernie started to play; to the point where some of them immediately feared for their own job security after hearing the newcomer. Those fears never materialized; that Ernie Hatfield had immediately landed as an Alien, however, was apparently never in doubt.
Also at that audition rehearsal was guitarist Stew Pappenfort, a Kansas City native who played in clubs there as early as the 8th grade. After spending time in Tucson and the Seattle area he moved to Salida and in the late 70's became a member of a Poncha Springs-based band, Cinnabar. He also played in a short-lived reggae and Grateful Dead cover ban, Pressure Drop, in the early '80s before joining the Aliens. It was Stew who introduced Leadville native and saxophonist Dave "Sparky" Sparkman to the band.
Gig horror stories:
After the 1964 Cadillac, the next band vehicle was J.N.'s 1971 Ford Pickup which pulled a trailer full of band gear. J.N. and Ernie recall a harrowing trip to Telluride in a snowstorm with four band members nervously sitting in the cab. On one road trip the band managed to drive over seven of the eight major Colorado mountain passes spending nearly $300 to make a total of $400.
There was no shortage of the challenging conditions, meager pay, and funky venues that any touring musician will recognize as his rightful lot in life. One of the funkiest of the venues the Aliens played was the Thunderbird in Florrisant, a favorite watering hole for bikers from the Springs with the smallest stage the band had ever seen – not inappropriate, perhaps, for a crowd that was self-described as "the one percenters" – the real outlaw bikers. They also were hired to play the Bull Nut Roast Festival in Fairplay, put on by a local liquor store owner for what J.N. described as a "redneck crowd." Think the Blues Brothers in that roadhouse … without the fencing.
Gig Triumphs:
Ernie recalls a time when the band was playing one of the local clubs during the Telluride Jazz Festival in 1986 when, after the gig, some band members broke into and hot-wired a sauna where they sat, in their suits, for the rest of the night singing loudly, much to the dismay of the gospel band in the next room who had the early morning set the next day. However, the gospel singers got their own sweetly-appropriate revenge: they returned the favor, after the Aliens had shuffled off bleary-eyed to bed, by rehearsing their Sunday morning set right under the band's bedroom windows.
Then there was the time they convinced a skeptical manager at The Trough in Gunnison to hire them during one of the bar's bigger weekends. The manager's frankly-expressed opinion, once he realized that the band was from Salida, was that they must not be any good. All the Aliens present at the recounting of this tale laughed at the memories of how they had decided to mess with this manager, stumbling around calling out for their missing Mel Bay "How to Play Guitar" manuals and displaying one single guitar amp as their sound system. Then, after the manager had doubtless succumbed to his worst possible fears, the band stepped out and, as J.N. recalled, "We killed them!" The grateful manager promised two drinks per member per set. But musicians also tend to be fair imbibers and one of the band's soon-to-be-former drummers managed to run up a $600 bar tab there in only one night.
Cryptic references to Lars the Coyote kept cropping up. It takes us a while to realize what longtime followers of the band may recall: the band's mascot, Lars, was a stuffed coyote originally found under the stage at the Vic along with a bunch of other stuffed critters. For years the dead animal resided in front of the bass drum and on one occasion was discovered by a blind dog during a performance, causing quite a scene. The coyote has since disintegrated but lives on in the band's promo materials.
And then there's That Magic Moment in Show Biz …
During a gig at the Western State College "Spring Fling," Denny Daley somewhat ruefully recalls, "I knew we had made the transition from being a cool band to a bunch of old guys." This shattering conclusion occurred when, after a blazing set, the Lazy Aliens took a break and wandered through the crowd soaking up plaudits. They were not long in coming: a "bright young thing" came bouncing up to Denny and, beaming, addressed him with, "Awesome tunes, sir!" It may have been during this particular Spring Fling that Sparky the sax player managed to fall off the stage in mid-performance. He quickly recovered and went on to play a blistering sax solo. Awesome, indeed.
The fact that there still is a Lazy Alien Blues Band, after all these years, is a minor miracle in itself. It was after becoming snowbound while playing Farquahrts restaurant in Durango for two weeks in the winter of 1988, with all eight members having to share the same motel room, that everyone began considering life after the Aliens. Upon their return Denny left the band to open Mama D's restaurant in Salida. Ernie, along with some members of the band formed the L.A. Blues Review sometime around 1990 which eventually became Little Ernie and the Big Thang. The band played covers and originals according to Hatfield and continued performing until around 2000 when the Aliens "kinda morphed back together," after J.N. returned from a stint in the merchant marines and the former band members had a reunion.
For the past ten years, the Aliens have been performing throughout Colorado, weathering changes in the club scene with humor and smoking licks. This two-nighter at the Vic, sans J.N. who's in intensive care after his surgery, features Deke – a strapping six-foot-plus foot gent with a still-full mane of hair who somehow manages to look exactly the same as he did in his thirty-year-old photos – belting it out over two saxes, keyboards, and two guitars trading rhythm and lead, as well as drums and bass. All the Aliens are sharing singing duties, and as the dual sax action breaks out during "Cold Sweat", the Vic heats up. There are couples exhibiting some surprisingly good swing moves, distributed in age across a 20 – 60 – something range. Long instrumentals encourage dancing, and even the unfamiliar or slower tunes see plenty of action. But now the band breaks into a familiar one:
Everybody … Needs Somebody … Everybody … Needs Somebody …
Squeals break out and there's a rush to the dance floor as the Aliens lean into their mikes and chant, "I need you, you, you, I need you, …"
Just another Saturday night at the Vic, but there's definitely some magic in the air.