By Mike Rosso
The Beaver Creek Wilderness Study Area (BCWSA), near Penrose, is a hidden gem encompassing nearly 27,020 acres. Administered by the Bureau of Land Management (BLM), a portion – 13,734 acres – is within an Area of Critical Environmental Concern. As part of the 1976 Federal Land Policy and Management Act, the BLM was directed to inventory areas for their wilderness characteristics. These areas are known as Wilderness Study Areas (WSA). Until Congress makes a final decision either to designate these areas as wilderness or release them for other multiple uses, the BLM manages WSAs to preserve their suitability for designation as wilderness.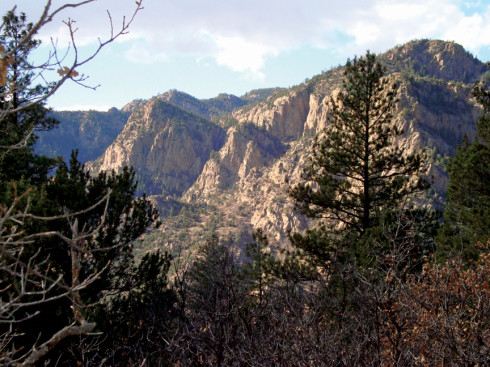 The BCWSA consists of granite cliffs and red rock formations within an elevation range of 6,000 to 9,900 feet. The flora and fauna are made up of a semi arid, pinon-juniper ecosystem in the lower elevation, where you'll also find yucca and walking stick cholla cactus. Further north and higher up, visitors will find Engelmann spruce, Limber pine and Douglas fir, as well as ancient bristlecone pines in the subalpine heights. It is said to have one of the greatest concentrations of mountain lions in Colorado, sharing their territory with bighorn sheep, black bear, elk, mule deer, beaver and bobcat. In the skies you'll find peregrine falcons, golden eagles and rough-legged and red-tailed hawks. Down on the ground, live blue grouse and wild turkeys reside.
There are ten miles of "sparkly" trails within the BCWSA. We say sparkly due to the amount of mica and quartz found in the geological makeup of the area. If you hike there on a particularly sunny day, you'll observe this phenomenon. As it is a WSA, trails are only open to hiking and horseback riding, and dispersed camping is allowed throughout the WSA and on BLM-managed lands in the area. The BCWSA is open year-round and there are no fees charged, but it has limited handicap accessibility.
From Cañon City, head east on U.S. Highway 50 toward the Fremont County Airport (about 5.5 miles). Turn left (north) at the traffic light on Phantom Canyon Road for approximately 1.5 miles, then turn right on County Road 123, and take the first left onto Upper Beaver Creek Road (County Road 132). Follow this until it dead ends at the trailhead. The trail and kiosk are located on the north side of the parking lot. For more info, call the BLM Cañon City Field Office, 719-269-8500.