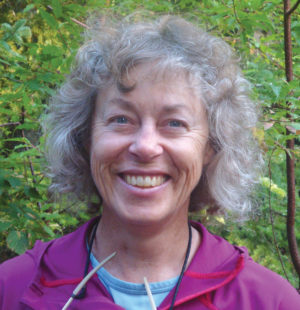 Although I spent my professional life as a nurse-midwife providing women's health care, the need to be creative has always been pervasive throughout my life. Taking art classes and workshops through the years, I have explored many different mediums – clay, print making, oils, acrylics, pastels, watercolors and mixed media.
In 1999, my husband and I moved to Salida.  Surrounded by mountains in the beautiful Arkansas Valley it was a natural evolution to start painting en plein air (painting on location). Being out in nature feeds my soul, so it is no surprise that I am passionate about painting the landscape. Holding onto the first impression and painting fast before the light changes is exhilarating. This exudes an energy and freshness to the work. Inspiration comes from a combination of all of the elements – the play of morning light, the rhythm of rolling hills, patterns in the vegetation as well as dazzling water reflections. Each painting is a visual description of my reaction to the sights, sounds and smells of my surroundings.
I enjoy working in series. It provides continuity and a challenge to see the same subject in different ways. Behind the Scenes is from the "Alley Series." I have always been intrigued by the back side of peoples' lives. There is a history in alleyways – funky old buildings and sheds with peeling paint, cast-away items and cottage gardens.
Sally is represented by Gallery 150 at 150 West 1st Street in Salida and Fare Bella Gallery at 14 Ruxton Avenue in Manitou Springs. Her website is www.SallyMather.com.