Artist Leslie Jorgensen didn't grow up in Colorado, but after she took a job at The Denver Post in 1989, she never looked back.
"I grew up in Florida, and when I moved here it was the first time I had ever seen snow," she says. "I loved it and I knew I wanted to spend time in those mountains."
Leslie quickly came to love skiing, taking full advantage of the great resort areas in Colorado and throughout the Rocky Mountains. But a few years ago, the call of the backcountry became irresistible, leading her to explore new mountain adventures on the road less travelled.
"I wanted to get farther into nature, away from the mechanical lifts and the crowds," says Leslie. "Before releasing ourselves into the wild, my husband and I took our AIARE AVI 1 avalanche training at Rocky Mountain National Park. We did a few hut trips, and we were hooked!"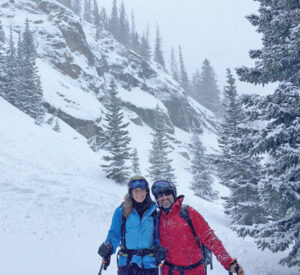 A landscape painter for many years, Leslie quickly found her new passion taking over her art. "I was in the studio trying to work on other things. But really, I just wanted to be out skiing. I decided to combine the two disciplines of backcountry skiing and art, and something cool happened."
For Leslie, the mountains, the wind, the cold, the colors – and even the majesty of silence – had become forces that demanded to be expressed through her work. "I love what the wild places have done to me and to my art," says Leslie. "The energy of these places comes across on the canvas."
"My work on this series reflects not just my personal journeys into the backcountry, but also the incredible forces of nature and the wonder of something so infinitely greater than myself," says Leslie. "In my paintings, the landscape is large and the figures are small, emphasizing how tiny and insignificant I feel in this immense environment."
"For me, the backcountry represents adventure, risk and a test of my own strength," says Leslie. "In our over-mechanized world, the fact that such immense, wild, forceful places exist is both inspiring and deeply comforting."
Leslie is a contemporary artist who paints her experiences skiing, hiking and biking in the Rocky Mountains and the West. She lives with her husband and ski partner Ron Salerno in Salida. Her award-winning series, Art of the Backcountry will be on display January-March at Coldwell Banker Collegiate Peaks, 139 W. First Street in Salida. For more information, visit Leslie's website at www.lesliejorgensen.com