Evy's work is inspired by nature, especially the tenacious, inconspicuous forms growing in the rugged Southwest. Seedpods, thistles, fungi and cones fill the frame with their intricate structures, and the complex micro-landscapes are aggrandized in oil on canvas.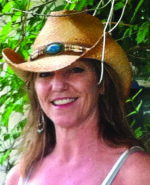 Evy began her art career at a young age, making posters and signs for local events in Dallas, Texas. She began formal instruction at the age of fifteen and, after completing an intensive study of commercial art as a senior in high school, she was awarded a scholarship to The Dallas Art Institute and graduated with honors. This led her into a career in advertising design, where she soon earned a position as Art Director for a small design firm in Dallas, and then started her own design business in 1987. In the early '90s, the graphic art business was converting to digital, and Evy decided to pursue her own fine art, and also began teaching art to students in Texas. She completed a BFA in painting from Texas Women's University, after raising three boys, and accepted a teaching position in southern Colorado, where she now teaches art to K-12th grade students in the town of San Luis.
Fine art printmaking became another passionate pursuit in 2008, where Evy learned various methods of etching at Southern Methodist University in Dallas. Several years later, she rented a press for several days at a fine art printmaking facility in San Luis, Colorado, where she met the owner – renowned artist and teacher, Randy Pijoan. Three years later, Evy married Mr. Pijoan and they both continue to advance the visual arts in the San Luis valley through their teaching and public art installations. Evy has two large paintings hanging in Richardson Hall at ASU in Alamosa, Colorado, including the one on the cover. These were commissioned by Colorado Creative Industries and are part of their permanent collection. She also has three paintings in the permanent collection of TWU in Denton, Texas. Her work has been exhibited in multiple juried shows in Dallas, Colorado and California.
Her paintings, etchings and monotypes can be viewed on her website at www.evymclean.com, where she can also be contacted. To view her work in person, you can visit her studio during the Rio Costilla Studio Tour on September 8 and 9. For more details and a map, visit riocostillaart.com.