I love making art, and have followed that love throughout my entire life. Painting in acrylics, oils and watercolors continues to be my main focus, as well as a deep commitment to drawing.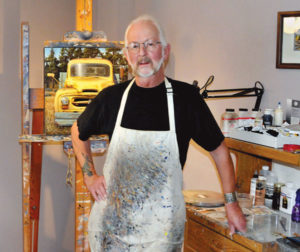 Receiving a B.S. degree in Art from Murray State University in Kentucky, I explored various imagery over the years as I moved from the east to the western states. The western landscape, the indigenous peoples of the West, and the amazing high altitude light inspired a major shift in my imagery, which I follow to this day. Working with legendary artist Frank Howell in the late eighties honed some skills and introduced my work to a number of Santa Fe artists, their art and galleries.
My artwork is collected internationally, and is in the permanent collection of the Colorado Springs Fine Arts Center, as well as the Sangre de Cristo Arts Center in Pueblo, Colorado. Inclusion and awards for my art are in many national exhibitions such as the Arts for the Parks with a bronze award and a National Parks national calendar award, Paint America, Spectrum Contemporary Fantastic Art, the Art Renewal Center's annual Salon four times, as well as the "Winner's Roundup" at the Phippen Museum in Prescott, Arizona, with award-winning art from past shows at the Phippen Museum. My art has also been the subject of calendars, note cards, book covers and CD covers.