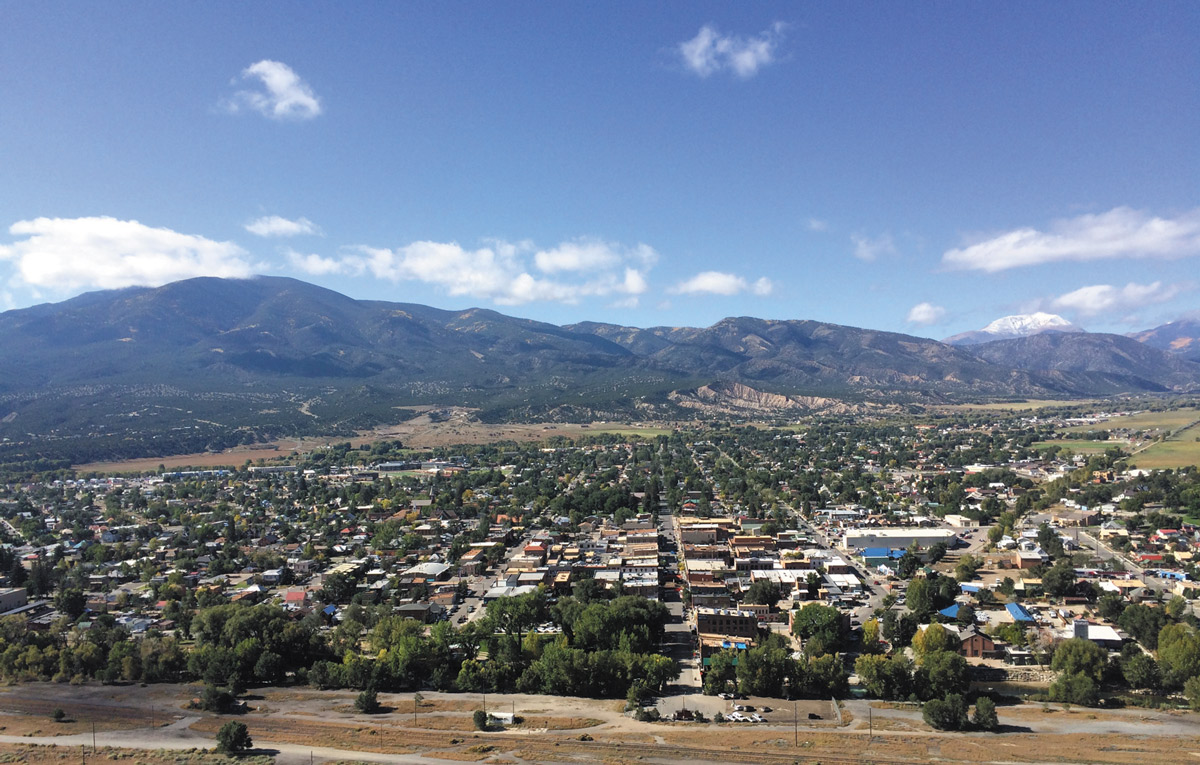 By Jan Wondra

Talk with Central Colorado towns, cities or counties these days and you hear the same concern: housing stock – the lynch pin of a community's social structure – is not keeping up with demand. While the situation is true across the entire state, rural areas are less able to deal with the effects of state inbound migration, rising housing costs and non-existent supply.

"It's dire. The need for affordable housing is getting worse and worse," said Central Colorado Regional Housing Director Autumn Dever. "Our region isn't building or keeping up with the need. Incomes are not increasing as rents and housing are going up and it's pushing people over the edge."

The extent of the problem isn't just felt at the lower rental end of the spectrum called "affordable housing." It extends upwards to "for sale" and rental workforce housing for municipal fire fighters, police officers, teachers, nurses and emergency personnel.

More people are becoming homeless. "We're seeing people who never thought they would become homeless – never been homeless before – living in their cars, or being forced to move to a shelter if they can find one with space," said Dever. She points to the desperate housing need for those making 50 to 60 percent of average median income (AMI), as well as workforce housing (80 to 150 percent AMI), explaining that a healthy community includes all housing levels.

Most mountain communities are dealing with a housing crisis – with localized permutations.

"In Leadville we've got the 'over the hill' impact," said Mayor Greg Labbe, who says the city has a housing coalition and is looking at developer incentives. "In excess of 60 percent of the workers who live in Lake County work outside Lake County. Now we've got buyers coming 'over the hill' from Summit County, where the average single family home costs more than $800 thousand, buying second homes, driving up prices. Things that are barely affordable for us are a bargain for them."

Most counties have set up housing boards or multi-jurisdictional housing authorities. Chaffee County recently drafted an intergovernmental agreement to create a cooperative effort with its municipalities and says it can help fund a two-year housing position. Custer County has created a county housing board to deal with a cyclical rental shortage, a professional workforce commuting from Pueblo, and like many central Colorado counties, a rising number of retirees.

"Last year we renovated the second story of a building to house teachers and we'll add two more teacher apartments this year," said Custer County Chairman Bob Kattnig. "Most of our jobs are seasonal service, and tourism is driving housing costs up for local people."

Gunnison reconstituted its multi-jurisdictional housing authority in 2012 as its housing crisis deepened. Even in southern Gunnison County, 177 percent AMI is required to afford a home at the median price of nearly $400,000; 94 percent AMI is required to afford the median asking rent of $1,300.

"Our needs are just as dire here as in the metro area," said Jennifer Kermode, executive director of Gunnison Valley Regional Housing Authority. "We don't have the numbers, but people who don't have housing here are in just as bad shape as in the metro area."

Kermode, who arrived in Gunnison in April from a similar position in Summit County, says they are facing shortages at all levels and rising prices.

"We have nothing to rent at any level, working class 'or professional," said Kermode. "Even Western State University professors are struggling to find housing. Like Summit we have no senior faculties, no shelters, and no supportive housing. There is no one silver bullet. We need a lot of little ones. There are lots of different tools to get there and we'll need to do it in smaller increments than putting up massive apartment buildings. The goal is that we don't want to change our character. We're mountain, we're rural. We're real communities."

Other mountain communities share that sentiment. A recent survey of the Salida Business Alliance members revealed their number one priority is workforce housing. Many communities are considering tactics similar to Gunnison's (see sidebar).

Recommendations from Salida's housing task force will come before council in October.

"We're looking at code changes for land utilization, density, parking, changes to open space requirements," said Salida Mayor Jim LiVecchi. "We've done an analysis of infill locations for workforce housing. We're looking at developer incentives … like delaying water tap fees to the end of a project on workforce housing projects, reducing upfront costs so they can get going."

Custer County has a housing task force but, says Kattnig, "we're about two years behind the rest of the counties. We've got a different situation here. We look agricultural, but we're not; 85 percent of our income is residential taxes. Developers are subdividing and holding; we have 7,000 unsold lots in the county."

Colorado District 60 Representative Jim Wilson, who introduced an employer tax credit bill that would reward employers developing employee housing, will continue the effort in the next legislative session. "I'm hoping it will make progress," said Wilson. "Last session it got through the House, but got killed in Senate finance. I don't think they thought it through. When it comes to rural economies if you want to expand your business, and you hire and they show up, there has to be housing."

Communities seeing success describe a unified vision. "Nothing gets done unless there is a cooperative will on councils or county boards," says former Breckenridge Mayor John Warner. "In Breckenridge, we plowed excess funds back into a land bank and infrastructure. We waived water tap fees and water plant improvement fees. We established a town housing office and collaborated with the Summit Combined Housing Authority. If a project wanted to be annexed we wanted it to be 80 percent affordable housing at 80 to 100 percent AMI. It's 20 years of shared political will."

The economic future of Colorado's central mountains is tied to housing, say experts.

"Workforce housing is a problem for continued economic development across mountain areas," said Chaffee County Economic Development Corporation Director Wendell Pryor. "It's hard to incent employers to relocate or add jobs here, when there is no place to house the workforce. Where are they going to live?"

The pace, say most, is frustrating. "Housing takes time," said Dever. "Part of the reason we are so far behind is nobody wants to step up and say 'we need to do this'."

Jan Wondra lives in Chalk Creek Canyon where, when she's not covering business and government issues related to our quality of life, she's finishing a book. Its topic, she assures us "is strictly fiction."
Housing Definitions:
Affordable housing – Generally referring to housing for families making 60 percent of an area's average median income, often working at minimum wage. The income range often includes waitresses, retail and clerical workers, those working in service and repair roles.
Workforce housing – Housing within reach of the professional workforce, including teachers, police officers, emergency medical technicians, fire fighters, at 80 to 150 AMI.
Attainable housing – Colorado's term for housing for everyone that takes no more than 30 percent of a family's take-home pay.
Gunnison Valley's 10 Housing Strategies:
1. Build Capacity
2. Create Dedicated Funding
3. Build New Housing Units
4. Land Bank
5. Enable Private Sector Development
6. Maintain Permanent Supply of Affordable Housing
7. Complete Crested Butte Affordable Housing Project
8. Complete Housing Needs Assessment
9. Update Deed Restrictions
10. Prepare for Future Housing Project