Article by Columbine Quillen
Artists – March 2002 – Colorado Central Magazine
SALIDA ARTISTS Tammie and Dave Lavercombe offer a diversity of art, from bright colorful landscapes, to wood and paper-maché sculptures, to elegant silver jewelry. They are one another's biggest fans and they create an atmosphere in their home and studio that welcomes creativity and encourages admiration not only for one another's art but for the beautiful world that inspires them.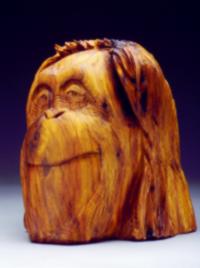 Dave grew up in the Midwest. His father worked for Dow-Corning and moved his family around — from Michigan, Kentucky, Illinois, and other places — ultimately ending up in Midland, Michigan after each stint in another location. Dave found solace in art at a young age. It was something that he could control in a world where he was constantly being jostled about. Exhibiting talent early on, Dave won numerous awards in junior high and high school including Artist of the Year at each school.
After he decided to study art in college, Dave came to Colorado to attend The Colorado Institute of the Arts (CIA), which is a fairly large school in Denver. "I always dreamt of the West when I grew up in the Midwest. I always wanted to go west after I saw pictures of a place where people could drive through a tree."
Tammie's father was in the Air Force. She was born in Wichita Falls, Texas, where her father was stationed, but moved to Colorado when she was three years old. Tammie grew up in Littleton, and started painting in high school, doing landscapes and portraits of her friends. After graduating from Arapahoe High School, she decided to study fine art at Metropolitan State College, which is in downtown Denver.
The Lavercombes met in the early '80s. Tammie was a barista at a coffeeshop/bakery called the Market in downtown Denver on Larimer Square, and Dave was a regular customer, but Dave was actually dating someone else at the time — a woman he often brought to the Market with him. Tammie and Dave would always chat, though, mostly about the local music scene and movies.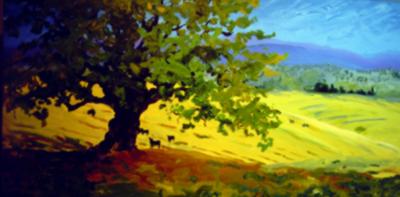 Although Tammie had a crush on Dave, she didn't _think it would go anywhere because he obviously had a girlfriend — and after awhile Dave stopped coming into the bakery altogether. A couple of months later, however, Tammie was working at the old Meininger's art supply store downtown when Dave came in to buy some paints. Before that, neither of them had known that the other was interested in art. Since Dave had broken up with the other girl, he asked Tammie out that day.
Together, they enjoyed local music shows, their favorite being Charlie Pickett and the Eggs, and hard to find movies. In August of 1986, the couple were married in Tammie's parents' backyard. And their daughter, Sadie, was born in 1987.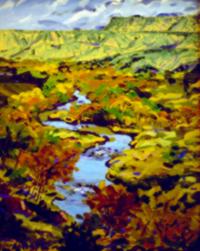 WHEN SADIE WAS FOUR, Dave and Tammie decided that they didn't really want to raise her in the city so they started looking for other places to live. Tammie saw an ad in the paper for a place called Real American. Although she didn't know anything about the company, Tammie was having trouble finding graphic design jobs in Denver — due to CIA, there was a surplus of graphic designers there — so Tammie and Dave drove to Salida for a job interview.
Tammie had been in Salida once before when she was a small girl, and her family had gone to the pool, but Tammie barely remembered it. On this second trip, however, Tammie immediately thought Salida was brilliant, "We were like, there is nothing here. It was gorgeous. There was tons of sunshine."
But Dave wasn't so sure about it, "I liked Denver. I was terrified. There were no museums, no music shows. No Diablos or David Bowie. When we drove up on 291 there was just farm equipment."
But Tammie got the job at Real American and they moved their family to Salida. Certainly, it was an adjustment, but they grew to love it here. Not only did Salida provide a stable environment in which to raise their daughter, but it also furnished a myriad of interesting and beautiful things to paint.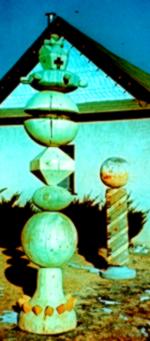 When Dave first came to Salida he was focusing on paper-maché political sculpture. "There are a lot of neat folks who like my political art and collect it. And there are certainly plenty of things to comment on." But before long Dave began to move away from paper-maché sculptures. He went into jewelry as an assistant to Michael Boyd, and then started focusing more on wood sculpture.
Today, Dave is moving away from the wood sculptures and towards painting. "I wanted to get back to an immediate medium. Sculpture is so slow."
TAMMIE HAS ALWAYS been a painter. She works with acrylics laid thickly on the canvas. "Some people think that she paints with oils because the paint is on so thick," Dave said. "She has a really good sense of color."
Unlike oils, which may turn brown and grey and muddy-looking when applied with such speed and depth, the acrylics dry fast and allow for a vast array of very distinct colors. Tammie paints landscapes that you see every day in the Arkansas valley, but with dazzling colors and an amplified vitality.
Dave says it best about her piece, The Trees of the Lord are Well-Watered:
"I just saw a meticulously painted tree," Dave commented. "But it didn't have the life. Tammie's has the life and it has character. It has expression."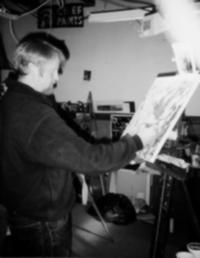 Both of them are enthralled with the abundance of inspiration they harvest from their surroundings. "You just open your eyes and you can't believe what and where the beauty is," Dave said.
"Moving to Salida really developed my love of doing landscapes," Tammy said. "You go on a hike and there's a painting, no 500 paintings. We are so spoiled. So blessed.
"I started walking in Castle Gardens," Tammy continues. "And Dave started riding his bike there. I started taking pictures. It is so beautiful there that it really started me painting."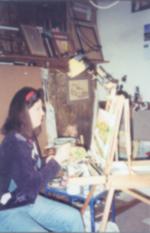 The future is filled with promise for this talented couple. First they plan on paying off their mortgage, which will allow them more time to work on their art. They look forward to expanding into more galleries so more people can see their work, and are already entering shows statewide, in Ouray, the Olympic Center, and the State Fair. In 2001, Dave's sculptures received awards in Ouray, from Art of the Rockies, and at "The West" exhibit in Cañon City, and Tammy received a first place award for a painting shown at the annual CCCA Show in Buena Vista.
Some day they hope to quit their day jobs and work exclusively on their art. "We will have a lot more opportunity to work on our artwork as our mortgage goes down." "Eventually it will be what we do."
You can see and purchase their work at Mariposa Window and Door at 1301 E. Street, Salida, or view Tammie's paintings at Spaghetti Western Restaurant in downtown Salida.
Columbine Quillen grew up in Salida and is a 1999 graduate of Western State College. She is currently hiding from winter in the Virgin Islands.