Article by Sheila K. Goodman
Wolf Creek – May 2007 – Colorado Central Magazine –
MINERAL AND RIO GRANDE counties and the San Luis Valley could soon benefit from the largest boost to their economy since the decline of the mining and logging industries. Towns in both Mineral and Rio Grande counties have struggled financially for decades.
Creede, the only township in Mineral County, has successfully relied on the arts. Spurred mostly by the Creede Repertory Theatre and several local artists of reknown, Creede has gradually become known as a mini art mecca. But most merchants there still operate only during warmer months, and just a few businesses remain open during the remainder of the year.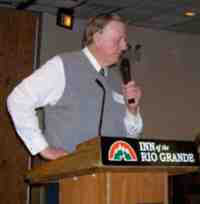 The towns of South Fork, Del Norte and Monte Vista suffer similar off-seasons. These small towns put up a gallant effort by sponsoring festivals, tournaments, car shows, rodeos, logger days and western-based events to draw in sales tax revenues to carry them through the slow times. However, the small communities on the upper Rio Grande are so dependent on tourism that many businesses come and go in a matter of months, unable to survive when tourism is down.
But the long struggle of these small townships may finally receive long-awaited relief. On Friday, February 16, Billy Joe "Red" McCombs and Bob Honts, partners in the proposed Village at Wolf Creek, met with Mineral, Rio Grande and Alamosa counties to keep them abreast of progress being made in the development of the Village at Wolf Creek.
That evening McCombs and Honts held a meeting with the public at the Inn of the Rio Grande in Alamosa to answer questions and announce their pending closing on property in Rio Grande County on February 19, 2007. Said property is the Twin Pines Ranch on Hwy. 160 just east of Del Norte, Colorado, and they expected to close on a larger parcel, The Flying "W" Ranch, in April).
After twenty years of negotiations and confrontation, the people of the upper Rio Grande region have pulled together to back McCombs and Honts in bringing decades of efforts and hard work to fruition. The Valley, through The Unified for Progress Committee, which is comprised of local businessmen, took a leadership role and sponsored the February 16 meeting.
Although there have been years of negotiations and planning, the purchase of these two properties is the first visible sign of progress being made in preparation of bigger things to come to the San Luis Valley due to the development of the Village at Wolf Creek. After its completion, this Village, a large resort at the base of the Wolf Creek ski area, could house as many as 10,000 people during peak ski periods. When fully implemented, it will be the largest financial and economic investment ever to take place in Southwest Colorado — public or private.
DURING THE FEBRUARY 16 meetings, Karla Wilshaw of Wall, Smith, Bateman & Associates, Inc., Certified Public Accountants announced the result of the Mineral County Tax Analysis in conjunction with the proposed Village at Wolf Creek. The analysis revealed that within twenty years of beginning construction at the Village, Mineral County would see $237,000,000 in tax revenues. That would be a major "shot in the arm" for the only town in Mineral County, Creede, which is currently implementing plans to reconstruct its out-dated, faulty water system.
This analysis projects that residents of Mineral County and the Creede School District will see future benefits of the highest per capita tax collections and the lowest per capita taxes of any county in Colorado. Last year all taxing entities in Mineral County collected less than $900,000.
Billy Joe "Red" McCombs is not new to the development arena, nor is he one to shy away from huge projects or opposition. In San Antonio, Texas, he was able to attract the builder of a 2,000 unit, high-rise hotel only after years of negotiation for permission to re- route the San Antonio river through town as an accent to the property where the hotel was built.
McCombs, a natural born entrepreneur, has made his billion-dollar fortune in various areas. He was co-founder of Clear Channel Communications, the largest communication service in the world, owning over 1,200 stations. His interests and involvement in the genetic breeding of livestock witnessed the largest sale price for a Longhorn bull, which went for one million dollars, an unheard of price for livestock in 1984 when it was sold to a syndicate of 20 persons.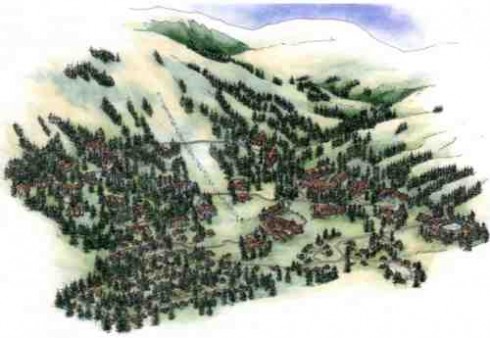 McCombs was also instrumental in bringing the World's Fair to San Antonio in 1968 and has made donations as large as 50 million dollars to Texas University, the Red McCombs School of Business, and for cancer research. Although McCombs insists that he is just a former tobacco-chewing bubba from Texas, his influence in the reconstruction of the San Antonio area has not gone unnoticed, and his aptitude for making almost any investment venture profitable has earned him a "bigger than life" persona.
McCombs, known for making solid, profitable decisions in business, has watched as his interests in McCombs Energy grew from drilling sixty wells a year to eighty wells a year. He was also the proud owner of the Minnesota Viking NFL team which he sold after about nine years for a profit of almost four million dollars.
It seems that whatever McCombs sets his mind to do, eventually gets done. So, it is little wonder that twenty years after his initial investment in the business venture to build The Village at Wolf Creek, McCombs is now announcing the purchase of additional properties in Rio Grande County and making plans to move forward with the development.
With his laid-back attitude and well-proven business sense, this former tobacco-chewing bubba from Texas is moving into the San Luis Valley, bringing with him the hard-working ethics of his share-cropping ancestors and his tenacious, thirty-year partner, developer Bob Honts.
Honts, a former city manager and twelve-year county commissioner is an experienced real estate developer who, in the fast pace of Austin, Texas "pioneered from conception" the Austin-Travis County Emergency Medical Service System complete with a helicopter STAR Flight 911 system. This far-reaching, volunteer first responder program for Austin and ten surrounding counties was rated number one in the nation.
In a recent visit to Mineral County, McCombs spoke of his confidence in his long-time partner, Honts, "Bob speaks for me, and to do what he does has to be tough because we do what we say we are going to do. He is an astute businessman and a visionary."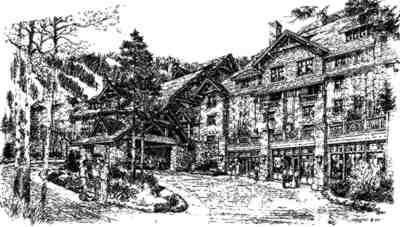 Upon joining in this huge endeavor at Wolf Creek, Honts says, like McCombs, he believes that "There is no magic in small plans."
It makes no difference if growth of this magnitude is thought to be a "shot in the arm" or a "kick in the pants," or a matter of "dragging small towns up by their shoe laces," growth is inevitable for the San Luis Valley. As with growth in any remote part of the country, many in the quaint communities of the San Luis Valley will yield reluctantly as growth occurs, but I believe soul singer Sam Cooke said it best in the title of his magnum opus: A change is gonna come.
Sheila K. Goodman is a free-lance writer in the San Luis Valley.