By Barbara Yule
Let the pipes and fiddles set your feet to tapping! September 21-24 ushers in the 13th year of "the biggest, little Celtic festival" in Colorado – the 2017 Spanish Peaks International Celtic Music Festival in Huerfano County. Picturesque La Veta, located at the base of the beautiful Spanish Peaks, is the focal point for the majority of festival events. Sacred to early American Indians tribes, the Ute people named the Spanish Peaks Huajatolla (Wa-ha-toy-a), "Breasts of the Earth."
Today, people living in La Veta still celebrate the peaks for the plentiful snow and rain they bring and the greening of surrounding valleys and uplands that sustain her people and abundant wildlife. Look closely, and you'll see deer moseying down the street and resting under trees.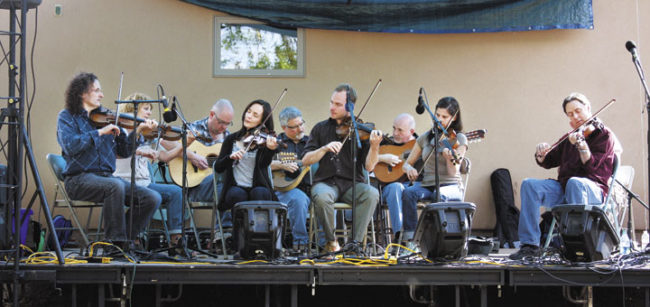 Unique in its scope and focus, the festival is designed along the lines of musical retreats in Ireland and Scotland, where attendees typically stay for an extended time and actually participate in scheduled and impromptu activities with guest performers and tutors. This festival offers a dazzling array of instrumental, singing, and dancing workshops plus fascinating demo/performances and concerts throughout each of the four days (lots of FREE events!). The festival has an intimate feel, and folks come back year after year to experience the rare blend of learning and entertainment and to share their passion for the craft and the music with like-minded, kindred spirits.
The festival started almost by accident in 2005 in the postage stamp-sized community of Gardner. My Scottish husband, Jack Yule (one of Scotland's leading harp makers) and I had moved from outside Edinburgh to Huerfano County in December of 2000 for the sunshine – it tends to rain a lot in Scotland! The spring before our move, Jack raised a shed on our land – no running water or electricity – where we could live while he singlehandedly went about building our house. Jack was surprised to find he was the only Scotsman in the whole county. Not only that, but as a melodeon player himself, he could find no one interested in playing traditional Celtic music. The call went out and gradually a few hardy souls decided to give the music a try. Among them was neighbor and fine guitarist, Clark Diamond, who suggested issuing an open invitation to a musical picnic gathering (or ceilidh) on his land the summer of 2001. Forty people, including children, showed up. 
It was great fun so we did it again the following summer and doubled our attendance. In 2003 and 2004, Scottish musician friends of ours came for visits adding a strong professional element to our ceilidhs, and attendance soared. Shortly thereafter, someone suggested we turn the free picnic ceilidhs into an organized festival. Without a penny or a computer, that's just what we did. I sent hand-written notes to our professional musician friends in Scotland and beyond asking if they would like to come across and help start a festival – a bit of a cheek since they were required to pay their own airfares, and I couldn't even offer them a fee.
To my surprise and delight, a number said yes. Scottish composer/multi-instrumentalist, Billy Jackson and partner Grainne Hambly; harper/fiddler/singer, Patsy Seddon; storyteller/singer/Scottish folklorist, Margaret Bennett; renowned Paraguayan folk harpist, Alfredo Ortiz; and all the way from Switzerland, Park Stickney, international jazz harpist, opted in. Finally, as icing on the cake, Annabel Oats, popular Scottish ceilidh dance teacher and dance fiddler Arlene Patterson joined the party and just like that, we had an international festival of incredible artists!
Our first attempt at running the festival was chaotic, to put it mildly, but everyone bunged in – artists, local volunteers, and participants – and made it work with lots of laughs along the way. Our original approach of having professionals and participants working and playing music together in class and open sessions remains the framework for the festival to this day.
Over the years, we've drawn such world-class bands as Scotland's Old Blind Dogs (returning again this year) and The Tannahill Weavers; Ireland's Altan and The High Kings; and Carlos Nunez and band from Galicia, Spain. We've presented exciting, award-winning, up-and-comers like FullSet, Outside Track, and Dàimh.
Among our outstanding individual performers and duos, we hosted Seamus Connolly; Paddy O'Brien, Martin Hayes and Dennis Cahill; John Doyle; Jerry O'Sullivan; Maire Ni Chathasaigh and Chris Newman; Robbie O'Connell; Mairtin de Cogain; Ed Miller; Maggie and Cassie MacDonald; first year favorites, and Colorado Celts Jon Sousa and Adam Agee. This year our special guests are true legends: Irish piper, Paddy Keenan, and Irish fiddler, Kevin Burke. One-time members of Ireland's seminal Bothy Band, this is a rare opportunity to see and hear them individually and together. We're also excited to bring you The Screaming Orphans – the four charming and wildly talented Diver sisters from County Donegal, Ireland.
Come and join the fun!
For more information and to register, see celticmusicfest.com
Barbara Yule, along with her husband Jack is the founder of the Spanish Peaks Celtic Music Festival.